A Friend
January 1, 2011
God – can you hear me? Are you even there?
Are you a being up in space, or just a wisp of air?
Do you live in our hearts nuzzled in with all the love?
Or do you float down from the heavens on the soft wings of a dove?

Sometimes I wonder if my whole life has been planned.
Am I just a robot that cannot defy commands?
Do you know what I'll someday be before that someday comes?
Do you know how this poem will end before the writing's done?

Is it true that I can speak to you if I focus hard and try?
Do the Angels up in Heaven really dress in white and fly?
Is the Bible all made up, or is the magic really true?
If I don't believe the stories can I still believe in you?

Why did you choose churches as your special place?
They're so dark and blank and boring, they should really be replaced.
The beach is quiet and peaceful. The lakes are gentle and true.
The mountains and the meadows all seem much closer to you.

Sometimes when I'm unhappy, or even when I'm not,
I look up to the sky and pray with everything I've got.
God, did you hear me? Those times I called your name?
Somehow I know, for knowing and believing are the same.

See, God, I think you change to fit each person's needs.
If someone needs a listener, then that is what you'll be.
Some need an advisor, or just someone who agrees.
I just want a friend, so that's what you are to me.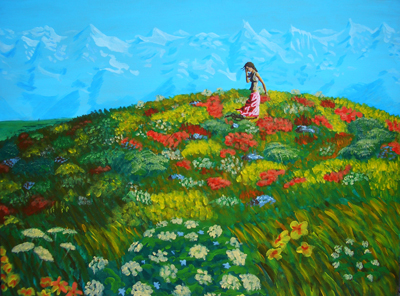 © Allison F., Langhorne, PA