Growl
November 29, 2010
I saw the best minds, worst minds, and most mediocre minds of my generation destroyed by
madness, hunger, selfishness and pain.
The way the world works, nobody can escape from the binds of consuming and conforming.
In a bitter harmony, the world's richest and poorest fight for a way to the top, the two groups equally seeking more and more. Enough is never enough.
The fat banker sits at his mahogany desk in the corner office and writes check after check to pay his various bills—water, heating, telephone, electricity, home theater, Jacuzzi, plane tickets to St. Maarten's, private chef, personal masseuse, helicopter, in-home Ferris Wheel.
Forty floors below him, on the sidewalk, the withered beggar divides his change—dollar menu burger and fries, a bottle of Seagram, and his lady companion at Third and Avenue.
But if the poor had the resources of the rich, their bills would be no different. Economic caste means nothing in terms of greed. Enough is never enough.
One block away, in a small apartment, a tall, slim teenager looks at herself in the mirror. She sees nothing but large hips, a protruding potbelly and untoned arms. She shuffles into the bathroom and sticks her fingers down her throat, purging away her lunch.
She sinks to the floor. Physically empty, but emotionally full.
Thoughts of self-hatred, disgust and imperfection swirl throughout her like tiny electric shocks.
Perfection is always one step away. Impossible beauty standards send one message. Enough is never enough.
Halfway across the world, in Tokyo, a girl sits at her bureau—she puts in her green contact lenses, twists her chestnut brown highlighted hair into a French braid, and applies skin-bleaching cream to her already pearly white face.
Such one-dimensional appearance values wipe out the wide variety of beauty.
There is more than one kind of beautiful, but the world seems to disagree.
If you are different you are not worth anything, screams the media.
And so the Japanese girl with so much natural beauty looks in the mirror and sees nothing but ugliness. Enough is never enough.
In Germany, a middle-aged man runs to his car after leaving his lover's house. Furtively glancing over his shoulder he is relieved to see no passers-by. Why should a single man care so much to be seen exiting an apartment building? Quite simply, his lover is another man.
Back in Alabama, a young couple sits in the park holding hands. His large, ebony fingers intertwined with her delicate, alabaster ones. A group of men drive by them shouting insults and racial slurs. The couple tries to ignore the cries. Their love is real. But the shadow of hate caused by others will always follow. Enough is never enough.
No matter location, the problems are the same. Pain crosses over all cultures.
Greed is rampant, unfairness exists, beauty is narrow and intolerance for difference is abundant.
Enough objects are never enough.
Enough beauty is never enough.
Enough love is never enough.
Perhaps tomorrow's generation will see the light.
A world where material things enhance life, not define it.
A culture that accepts beauty in all shapes, sizes, colors and designs.
A community that believes in love between all people, no matter what gender or race.
A new day will dawn, and hope will fill the world.
I will see the best minds, worst minds, and most mediocre minds of the next generation renewed by happiness, fulfillment, selflessness and joy.
The way the world will work, everyone will love and celebrate diversity.
In sweet collaboration, the rich and the poor will work together to fight overconsumption, discrimination, and hate. Tomorrow, enough will always be enough.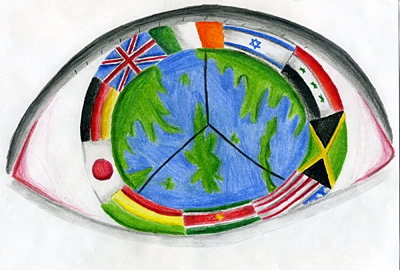 © Kelly L., Brooklyn , NY