Guitar Player
October 26, 2010
Is he the one? Yes, that's him. I smile. He's a guitar player, a senior, he is different. Always playing on his guitar, on his guitar playing away, playing his guitar like always. Fingers moving swiftly, accurately, barely missing a note. Fingers dancing elegantly on the strings. That guitar of his resting in his arms. So lost, so free, music is the escape, can't you see? Can you tell?

I remember that day, the memory is still fresh and crystal clear. That beautiful slick, smooth, singing guitar resting in his arms, slung around his neck, resting in his arms. That's the one, the guitar player. He's a senior you know. I know, but I don't care, he's different. Yep, that's him, the one with those crystal eyes that shine bright like the stars. He's the one with the hair, the black hair. Softly shining, clean hair that doesn't match his eyes or skin. But it still does in a way, it's one of those things were it doesn't look right, but it still fits perfectly.

That first day I saw him with that smooth guitar, the guitar that sang in harmony with the lead singer. That moment was magic, hearing them play. Guitar player, yeah the one who's a senior, guitar player with your crystal eyes and your black hair. What's it like? Being lost in music, being lost like a bird on it's own? Tell me, I'd like to know.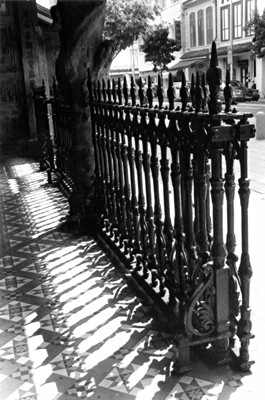 © Gretchen L., Edina, MN