But It Made No Sense
September 29, 2010
These dying red leaves are torn from their lover's limbs.
They're lost in the gusty breeze
Yet they search for air.
And then we talked.
But it made no sense.
He dashed off
Like these dying red leaves.
All those summers
Of jazz and sins
Was quickly swept away.
I did not see the green drain from their leaves.
I did not see him pack his things to lerave.
As I'm falling to the floor
I think to myself,
"I am falling to the floor."

I look in the mirror and only see
These dying red leaves.
Rage burns within my veins
As I shatter the glistening lake
With the boulder that I carry.
I feel my heart smash
The dirty glass
As tears cool my itching skin
I found the leaf I thought he swore
Tucked beneath his pillow case.
I grasp it in my ring hand.
I toss off the chain
But still I cannot let go
Of this useless lifeless leaf.
As I feel it wilt
Between my longing fingers,
I'm brought back to the prior spring.
When leaves finally grew, a vibrant lively red.
I'm walking down this
Winding road
While his fingers are laced into my skin.
The following winter
Snow buries these lovely red leaves
But angels swarm the ground
So I do not worry.
As my heart dangles
From his apple bitten lips,
His promises wrap my gifts.
But later I only found them
To be truthful lies.

These dying red leave
Are torn from their lover's limbs

And then he left.

But it made no sense.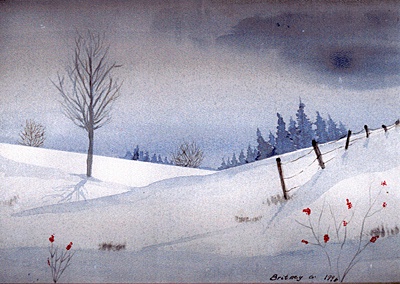 © Britney G., Green Bay, WI