March 18
June 10, 2010
I walk as they run, depressed as they're happy.

Another is gone--taken from my life.

Taken from their life too soon.

They are all so oblivious to my pain, the pain of my soul.

They do not know, do not care. Just go on with their happy lives.

I drag myself to the people that were told what happened—the nurses of our school.

Such pity in their eyes, but I could care less.

Pick up the phone, dial the number.

Wait for a voice instead of a ring.

It seems to have a voice of it's own.

What have I done, God? What have I done?

Relief as my dad answers the phone.

"I can't do it."

A world of understanding passes silently.

Drag my body to my class, tell the teacher where I'll be, go get my stuff.

Back to sit and wait.

Minutes or seconds, Dad comes for me.

The dam breaks. I latch onto him.

Cry my heart out, try to will the pain away.

Go home where they understand.

A life so precious was taken away, yet the world doesn't stop to grieve.

So many people die as I live. Last breaths taken as I breathe.

Should I feel guilty about being alive?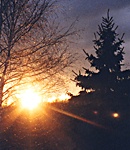 © Christy S., Germantown, NY