Jackson and the Strange Happening's at Home
May 27, 2010
It all happened on a dark night. My family had left me and I was feeling alright. In the darkness I sat, trying to figure out what to do when all of a sudden I heard something that sounded like a ghoul.
My heart turned to ice, my face turned blue. Was someone else in the house? I didn't know what to do! I slowly trekked into the kitchen where I first heard the noise, but I saw nothing but rotten food and dog toys.
As I looked around the kitchen, aglow by the moon, I heard a loud thumping and my fear un-doubly grew.
I then saw the strangest sight my eyes have ever beheld; it was a fruit; round, furry, orange. The peach rolled towards me, slowly and sly and then all of a sudden it opened its one eye!
I froze in my tracks, the peach never blinking. Then a minute later it told me what it was thinking.
"Hello Jackson of the K-9 race. We are so glad you are finally alone."
"Who are you?" I cautiously asked.
"I am Olavi and I belong to a group called the Peachins. We plan on taking over the free world, with the blink of our one eye." I suddenly got nervous. This peach told no lie. They really were going to take over the world, with just the blink of an eye.
I then heard more thumps coming from above. I looked up and saw 25 single eyes looking down at me, but not with love.
I needed to come up with a plan and fast. How long was this peach battle going to last? Closer and closer and closer they got; "well this is really the end of me" I sadly thought. Then suddenly out of the blue an orange ball of fur ran in front of me, now I knew what to do!
I helped my savior battle these foes. At the end of the battle, I arose.
I looked at my savior, in awe and gratitude, and then I saw, this savior was a cat!
"Who are you?" I asked my voice full of awe.
"It doesn't matter who I am. The only important thing is that you're safe. I'll be keeping an eye on you just in case something happens in the future. Stay safe."
Then my angel left, without me knowing her name. I guess it doesn't matter, because without her, I'd just be remains.
The next day, my family returned and blamed me for destroying their lair. How was I to know that nothing eliminates peach hair?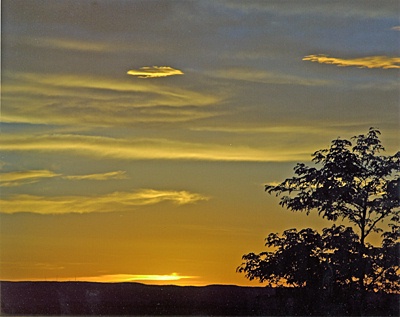 © Elizabeth B., Wichita Falls, TX