Promystery
April 5, 2010
Where Are You?

It's the night of prom,
all the girls are psyched.
They're fixing their hair
into a fashion the like.

The limo arrives
as eight o'clock draws near.
Three girls step into the car,
forgetting someone else that's supposed to be here.

You are missing,
where could you be?
You didn't get ready
with your friends, I see.

Instead you have
your own plans in mind,
going to meet your date
not knowing what would happen at the time.

Balloons and ribbons are strewn
throughout.
Eardrums buzz with music
forcing people to shout.

The girls are in dresses,
the boys are in suits.
Your three friends
are still looking for you.

At last there you are
with this weird, dark dude.
From the way he stares,
he looks evilly crude.

Your friends stop
dead in their tracks.
One pulls you over and whispers,
"Who is that?"

"His name is Scott,"
You say, quite at ease,
"He's nice when you get to know him,
be nice please."

Fixing her dress,
she irritably replies,
"He's a creeper, a freak,
I couldn't be nice, even if I try."

With that, your friend leaves
the other two following.
Scott laughs darkly;
you stare at him, swallowing.

Prom went on,
people got tired.
The music was too loud,
the DJ got fired.

At around eleven,
couples start to go.
Again where you are,
your friends do not know.

They don't see you
after meeting that boy.
What happened to you?
Is this his wicked little ploy?

At last there he is,
with eyes that can cut into you.
His same old smirk,
it's like Déjà vu.

One friend approaches him,
Asking him where you are,
"Ya' know," he says
"I'm not too sure."

"Yeah right,"
one friend says with a shove.
And behind his black jacket and a rich mahogany stain appears,
that was once covered up.

"What's that?"
Another friend asks, fear in her eyes.
"Just a stupid stain, honey,"
He nonchalantly replies.

Furious, yet scared
the three friends are stuck;
Watching Scott leave and wondering
it was just bad luck.

And yet, thus far,
the party had ten minutes to go;
and yet, thus far,
you still haven't shown.

Finally, finally
As your three friends are leaving,
they heard someone shout behind them,
it is quite disbelieving.

"Hey girls! Wait for me!"
You say, trying to catch up,
"Sorry I didn't see you,
I spilled some juice I had to clean up."

As the four friends make their way home,
you only have one thought.
Repeating in your head again,
Where was Scott?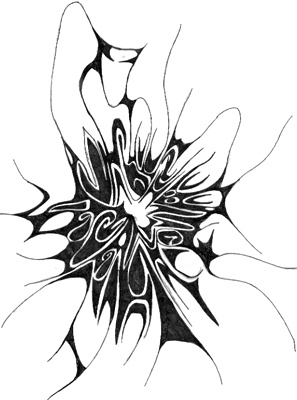 © Ansley F., Tifton, GA