The Night Vistor
January 18, 2010
The lofty moon began to shine down on the shadowy tree.I looked out my window to see the same strange bird I saw last night. The bird had a radiant color black. The beak was a light and dull black. Also the legs were silver in color. I walked to my antique dresser and got a small piece of stale bread.
I slowly opened the window and placed the bread on the division between the inside and the outside of the house. I walked backwards waiting for the bird to get the bread, it never did.
The next night, I saw the bird. The bread I had put out was now gone. I quickly glanced over to my queen sized bed, and saw a huge indention as if someone was sitting there. As I walked toward the bed the bird made a loud noise and flew in. The bird seemed to have landed on something but in thin air. Then a faint shadow appeared in the shadow of a man.
I held out my hand and all of a sudden a more solid figure grabbed me! I exclaimed trying to escape. The figure smiled and faded away, taking the bird with it. From that night on I never saw them again.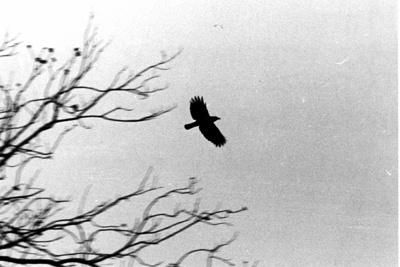 © Jacqueline T., Flowermound, TX