Seven Ways of Looking at Snow
MAG
November 25, 2009
1. On a dark dreary day
the wind pummels the houses
like the sea attacking the shore,
the powder glides to the ground.

2. The town is landlocked
after a night of heavy waves
consumed the houses and streets.

3. After the blanket is laid down,
the children leap and
wrap themselves in it.

4. The old man pushes through the woods
and grins under his gray frozen beard
every time the snow crunches underfoot.

5. In the rolling mountains
to the west of town
amongst the pine trees
and covering the frozen streams,
it lies forever undisturbed.

6. Deep in the recesses of a forbidden cave
a pile of a bear slumbers, undisturbed,
its thick coat slowly rising and falling
as it lusts for spring.

7. It's in the back of their minds,
the ones on the beaches,
as they drink in their last day
needing one more second away.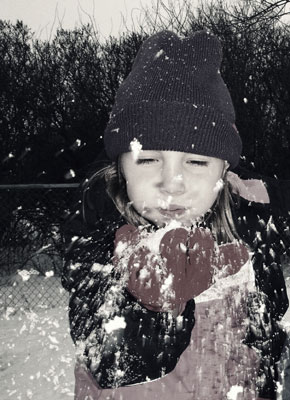 © Ashley K., Harvey, ND