I Try
October 19, 2009
Mascara runs down my face,
my tears, black as coal.

I try to make them stop,
but they're pouring from my sole.

I don't know what to say,
because to you, I'm never right.

I try to keep my mind away,
but your grip is just so tight.

You keep on saying all these things, things I've never said.

You just don't ever notice,
that it all comes from you're head.

I try to explain to you,
but of course that doesn't work.

You never even consider,
that you're just being a jerk.

And now as I close up,
so many things unsaid.

I just want you to know,
that it's not all in MY head.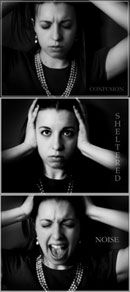 © Michelle B., Blairsville, GA