Ryan Adams
April 30, 2009
I was in love with an amazing girl.
I wanted to be with her forever.
I thought we should take it further.
I needed to talk to her.
That day I was more nervous than ever.
We were holding hands on a walk
and she decided to go pick a flower.
She walked across the road and
the ring in my pocket seemed to weigh more than it did before.
It happened so fast.
Her beautiful face was gone.
I rushed to the wreck where I saw her lying on the ground.
She didn't move.
I kissed her for I thought it would be the last.
And she was gone.
Two weeks later…
Playing with the engagemnet ring in my hands,
I thought..
I need her back.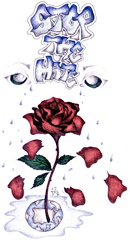 © Diana G., Phoenix, AZ