Seven Years, Four Months, and a Day
August 3, 2009
From our childhood we remember many things:
Those special one-eyed teddy bears, magic sandboxes, and plastic swings,
The times we laughed and played for hours on end.
But what I remember most are those times I spent with my best friend.

We would go to the park and you'd whisper secrets in my eager ear-
That boy you liked so much, or your secret hidden fear.
We had all the time in the world we thought, as we giggled and pitched our tent on the lawn,
That is, until your parents packed up, and suddenly you were gone.

We talked on the phone every day, until the sun slid down the horizon and faded to gray,
But slowly, inevitably, our friendship melted away.
We both made other friends and had fun as we grew,
But every once in awhile I'd stop and think of how much I missed you.

I was clearing out my closet and found that special blue-beaded box that we hid,
And inside were tokens of our young friendship, with a drawing of you and me on the lid.
I flew down the stairs and dialed your number on the phone on the wall,
But a stranger told me you'd moved away again, and left no other number for me to call.

Its been seven years, four months, and a day since that time we were eight,
When you promised you'd come visit as you walked out the gate.
I wish I had said something more, done something more than just pout and cry,
But I didn't know that was the very last time I'd wave my best friend goodbye.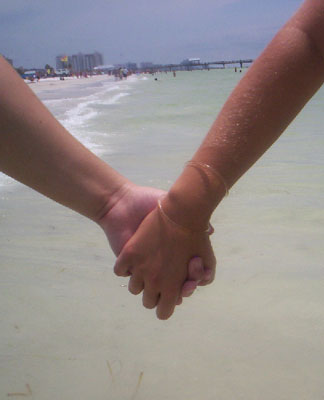 © Belinda H., Palm Harbor, FL