Empty Halls
MAG
July 19, 2009
The whispers in the hall
are only less than the truth
told by liars and cowards,
lost in translation by the gossips
and the nerds.

School may be back in session
but we've yet to learn a thing.
Kindness is dead
and soon we will be with it.

Spiral back to the "good times"
spent sitting on linoleum floors
laughing up at the ceiling
as we wasted each other's time.

Scowls may sear
but they will not last forever,
only morph into something
far different from what we can recall.

Someday the drama queens will disappear,
caught in the middle of a scandal
they cannot escape.
Only face the other side
of a coin they can no longer flip.

The rumors in the cafeteria
are only close to their hearts.
Told by ***s and a pompous ***
carried away by the jerks
and the forsaken.

The times may be changing
but we're still waiting to proceed
past the wars of yesterday
and the loss of the young.

Turn back to the things you knew
spent waiting for good things to happen.
Staring out through the windows
watching for things that will never come.

Tears may be wasted
but they will not last forever,
only be masked by brave faces
caused by feigned sympathy.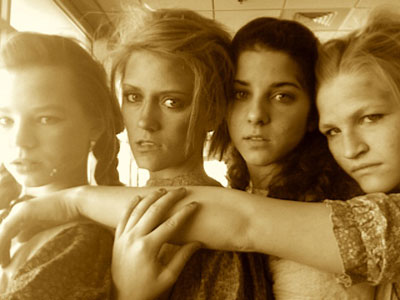 © Sarah Q., Leawood, KS