Dwindle
MAG
I sifted through our box of memories
and pulled out experiences, tattered alongthe edges.
Trying to seal up the gap in me
that you left wide open,
Ifell into the abyss of your echoes
and never quite returned.
I tried tofeed my insatiable hunger
By drawing on old memories,
so worn down
thatthey crumbled at the thought.
Instead I was left with a famine
that bore ahollow hole in the spot
where you used to hold my hand.
Lonely hourscrawled by
As I waited for your lingering voice to dwindle
And your placein my memory to fade completely ...
But I fell into the abyss of yourechoes
And I never quite returned.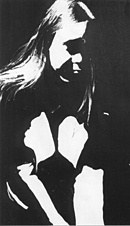 © Tabitha M., Kannapolis, NC