Split Personality
June 19, 2009
He claims "I've changed".
Maybe my priorities have rearranged.
Is for the better or for the worse?
Am I still under this curse?

Thinking he will soon be leaving,
My own thoughts I'm not believing.
I'm being torn between two lives.
One dies and the other for life it strives.

Corner to corner I pace.
Back and forth my thoughts race.
Darkness takes me under.
Movements start to blunder.

Emotions stirring inside,
By their rules I can't abide.
Crimson tears cry for me.
Streaming from wounds they flee.

Friends always worrying.
Questions constantly flurrying.
I try my best to hide them,
But long sleeves are soon trimmed.

Scars permanent on me,
Thoughts burned in my memories.
For now I'll live in my own reality.
And live my life of a split personality.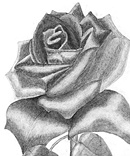 © Nghi L., Phoenix, AZ