Dawn's Rising
June 25, 2009
Frozen in place
While they try to erase her face.
Bleeding out their sorrows
Darkness never felt so insane.

Broken mind
Emptiness beyond all sunlight.
She says I love you
For the very last time.

Trying to say goodbye
While choking on her lies
No one believes her
And now she has nowhere to hide.

Dreams tainted as the moon sets.
Trying so hard but she can't forget
All the scars she craved.
Now it's too late for regrets.

She's walking around in circles
As her blood turns a dark purple.
Screaming out for help
Trying not to be so doubtful.

The world is sucking her in
She doesn't know where to begin.
She feels so hollow.
She doesn't know if she exists.

Looking at the sky
Trying to find a reason why?
She was left alone
To deteriorate and slowly die.

She finds chrysanthemums at her window
Wondering if she should let go.
Holing on to what's left of her heart
Trying not to let the pieces show.

Now she's shaking and her soul is dying
She pops that last pill she's done trying
All she asked for was remembrance
After dawn's rising.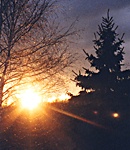 © Christy S., Germantown, NY