The Anger!
June 11, 2009
The anger inside explose.
and you can't mange.
You feel as if the whole world has turned against you.
You feel like you've lost that one person that kept you sane.
kept you down to earth.
The anger that has been bottled up.
The anger that keeps awake at night.
With one word it can be triggered.
I know I've been there.
I've been in that place where
The world looks different
Looks as if its brand new.
Your home looks and feels different.
The people you love the most.
You push them away
The anger has no name
and it holds back for no one.
When it is triggered,
The sky is no longer blue
But RED from tha anger inside.
The wind is no longer STILL,
But blows as if your in the middle of a tornato.
DESTROYING everything.
EVERYTHING in its path.
All you want was to relax.
But instead it pours out.
As if you were cut and the blood poured from your body.
It leaves you exausted
You didn't want to be bound.
Fearful to live because of the anger.
Your being controlled by
An evil force such as angry.
When it hits
Its like your on a highway doing 90
Not thinking straight.
Not caring about anything.

But I guess that's why love is here.

That's why love is known as to break any spell.
Love comesto clam you.
When it becomes to painful to deal with.
Just give in
Give in to love that's waiting for you.
Give in to the love that you once pushed away.

It's still waiting for
Next time you get on that high way.
Take the next EXIT
And do 90 for love.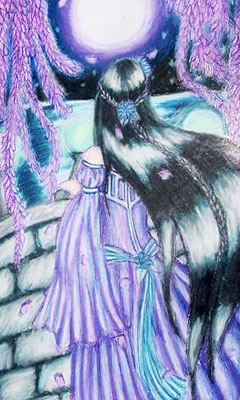 © Kelly K., Fort Collins, CO