Song of a Shipwreck Survivor
June 3, 2009
The sand and the waves
Soothe me,
Comfort me,
As I walk along this narrow beach.
My feet travel over the sand,
Squelching,
As I manage not to fall.
The waves pull at me,
Trying to make me see...
See that I'd rather be free.
The warm, salty air turns into a narrow breeze
When I walk.
I am stuck here,
On this island of pain and diasaster...
Of hopelessness...
And the *soft sad crinkling of the sand beneath my feet makes me miss the pleasures of the world unknown.
And the soft sad sigh of the sifting waves
Makes my heart fill with longing -
Longing for so much more than
This lonliness,
This pain.
Maybe if I wasn't so stupid,
So dumb.
Maybe if I hadn't earned the blame.
Maybe tehn I would have been spared the pain.
And the sun shines above me,
Shines above this mess,
As I pick,
And I scrape,
And I try to find them.
The boat, yes, the boat,
Is in so many ruins.
Smoke bellows out as sharp cracks ring out over the waves...
And it sinks under the sea,
For no one to sail again...
Ah, it was like yesterday, yet -
Only a memory shall save me now.
I have stopped calling for help,
Stopped using that voice...
I cry out -
Then fall.
I have no food,
No water;
yet they are what I crave.
But I am stuck here,
Forever,
Because I couldn't save them;
Because I survived...
Because I live.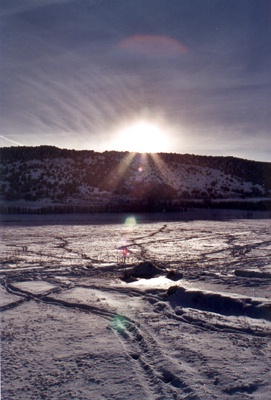 © Brandon T., Manila, UT