Who Can Outrun the Moon
June 1, 2009
In the eve of day.
With a crest of black.
Vanity scattered,
In the face of this entity.

She towers over us.
The goddess of night.
Her rule is quiet.
Whispered with secrets of nights past,
When demons come out to play.

Her aura spreads across the hearts of the criminals,
The thieves,
The murderers.
These are her minions.

Her aura is a blanket of fog,
That blinds ones judgment,
And whispers of retribution.

Retribution so sweet.
Revenge of the best kind.
That lasts for all eternity.

Try to outrun the moon.
Her eyes will always follow,
You're every path,
And when your journey ends,
She'll be there waiting for you.

Her face is hardened,
From the lover's quarrel so long ago,
So long ago that only the trees,
Can speak of the happenings then.

Her arms are stretched out wide,
Starry fingers curled.
She beckons for the constellations to follow her,
Into her misty realm.

This powerful goddess,
So strong and mighty,
Is more invincible than the sun.
For the sun fades away in the horror of the night,
While the moon stands her ground.

And when the sun comes out to play,
And the clouds dance across the vast skies,
She hides herself in the blueness.
Invisibility so marvelous,
That makes her all the more potent,
Enticing you to succumb to your sinful desires.

If you were to run as hard as you could,
She would only smile and laugh.
For she looks over the whole of the world,
No one can ever outrun the moon.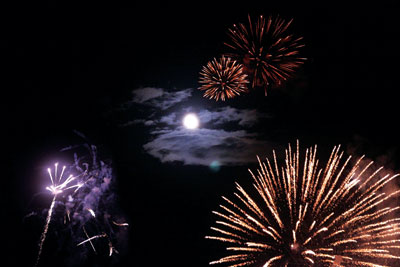 © Meena K., Groton, MA