The Love Song of a Hypocrite
May 21, 2009
Let us go, then, you and I,
Where the sunlight glints off the mirrored walls of skyscrapers
And from trucks and vans below

Their tinted windows and leather seats
Red, Blue, and Black, they honk rudely

fingers in the air.
Zoom! Rush! Whir!

(They're chasing dreams, you know).
Elusive,

improbable dreams
So, with Ipods, laptops, blackberries in tow,

They rush, become blurs,
A smear of paper and ink,
No words—only shapes—
Noses in the air, choking on the rain
Calling an elevator, feet tap impatiently.

At headquarters now, floor forty two.

Heads turn down,
Monopoly cars rush on,

Forty-two floors
They know, you see, they know

That those are forty-two floors of people

Whom they are above.
Penned in her office,

(A cubicle, a desk)
She peers through the bars

Shouts a warning—
"Pride comes before the fall!"
As, oblivious, they pass by the jailbird—a seer
she's watching their futures
One will leap!

Spring after slippery ideals
Crunch. Broken, Sprawled on the pavement as open windows

And thumping bass squeals by.
One will hop!

Slip from a chair,


Feet spinning North, Northeast, and back.
One will change.

Become fog—or plexiglass—


Unsure, transparent,


One-sided
The final will be lost. (Alone)

Her map lies, crumpled and wet on the pavement,

Her cheerfully vocal GPS lies smashed nearby
Will the jailbird wander? (Wings clipped.)

Calling for help from a brother long dead?
Hands clasped in a desperate plea,
Begging not to disappear?
And those purring engines and heated seats

(At speeds of eighty miles an hour,

And with the power of herds)

Don't stop.

In her prison,
Chin raised high, and smirk on her lips,
Looking down at the dolls on the street,
Reading her maps
And determined never to lose her way

Between yellow stripes on black tar,
Sits a hypocrite.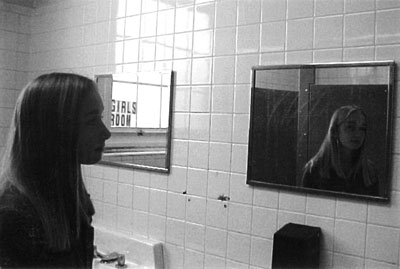 © Jill H., Pompton Plains, NJ