Where It's Warm
July 9, 2019
Trapped inside all day where the A/C blasts
dreaming of the pirate's cannon and how far he casts.
Caught indoors where the sun never shines
thinking of opening my dark and depressing blinds.
Checking the clock hour after hour
wondering when you'll see a living flower.
Straining your eyes while typing on the screen
while your mind dozes off eating ice cream; vanilla bean.
Stuck wearing dress pants and long sleeve shirts
wishing you were outside rocking your skirts.
Breathing in copy machines and endless amounts of paper
wanting to be at the beach instead of in a skyscraper.
Sitting awkwardly in this quiet office room
while it slowly becomes the site of your tomb.
Brain clustered and patience low
wishing you were sun-tanning and calling kids "yo."
Mentally screaming and not having fun
oh, how you wish this work day was done.
Refilling the coffee machine and signing sheets
instead of walking down the boardwalk with all the good eats.
Dealing with your boss who is always a tick
making you feel inferior so you call out sick.
On your day off that you've earned so much,
you enjoy the feel of the ocean's soft touch.
Shoving your feet and toes in the sand
while you drink your favorite soda brand.
Letting the breeze move you down the boardwalk
looking as some kids draw murals on it with chalk.
Smelling the food and all there is to offer.
While eating your cheesesteak you gaze at the water.
You know you'll eventually have to go back tomorrow,
but at least today you got the feel of the summer flow.
So when you sit back at your desk about to die,
just picture the Bahamas and try not to cry.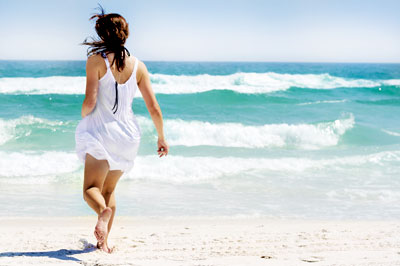 © Rebecca B., Marietta, GA