Is it me?
May 4, 2009
How could you do that
Lie to my face
I try to reach out
But you shut the door
And throw me to the ground
Like unwanted lace
I don't know what I did
Or maybe it's just you
Without knowing what's wrong
Or without you by my side
It feels like the flu
I leave you be
But maybe I shouldn't do that
What if it's just you
Wanting me
To come to your side
And say
"Everyhting's alrite"
But the truth is
I can't read your mind
I don't know what you want
So, just tell me
What's exactly on your mind
But no
You lie to me again
"Nothing's wrong"
You say
But how do you expect me
To belive you
When you have a face
Of hurt, sorrow, and worry
Is it me?
I don't know
So I keep my distance
Just to be hurt even more
You don't look my way
Is it me?
Could you be thinking of
Your ex
What if that's it
You probably still have feelings for
Her
And are maybe having second thoughts
About me
Is it you?
Or is it me?
Please tell me!
I can't read minds dammit!
I want to hold you and say
"Everythings alrite"
But can't if you stay inside
Having me hang
Like unwanted lace
Ready to be cut off
Or maybe I should be the one
To cut you off
Should we just end
You're not coming through
Should I just walk up to you
And say
"It's over"
I can't read your mind
Please tell me what is wrong
Or I'll be unhappy
And keep asking myself
"Is it me?"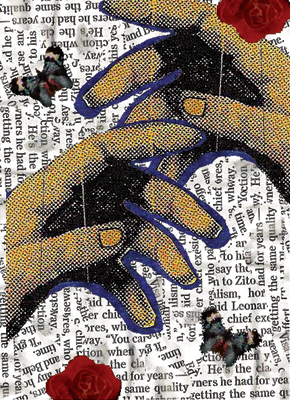 © Christine S., Arlington, VA