Ode to Immortal Acumen
May 1, 2009
Much fright begets the song of love,
That strikes to the heart, though one feels no pain.
And we surrender without wit to Cupid's mighty reign,
Though we might cry to the heavens above.
Pity befalls one who tries to ignore,
The grip of the arrows, the calls from before.
And without so much as a murmur of warning,
Before one's eyes, alas! It is storming.
For try as we might to escape, take flight,
It will follow into the darkness of night.

Such sadness compels our souls to weep,
For without escape from our own sorrow,
We find that upon dawn of the morrow,
That from our chests, our blood, it seeps.
And the feathers that so lovingly pierced our chests,
Can bring us nothing but pain at best.
For everything we lost in tears,
Does nothing to ease what we gain in fears.
And no matter what light it will shed upon day,
It cannot spirit agony away.

What darkness haunts the bravest of men?
What shadows haunt the immortal chords?
They charm and fool with pretty words,
Through time, and time, again.
And from the arrows there is no protection,
No shield of man can arrest affection.
It fells deeper wounds than the sharpest swords smote.
(Such is the power of the song's notes.)
And even if upon our hearts, we close a door,
We shall always play the fool, if but yet once more.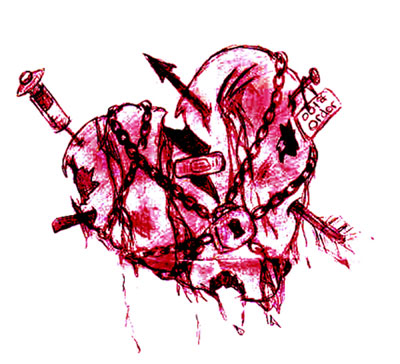 © Asia B., Hudson, MA