I Saw a Man Cry Out Today
April 22, 2009
A sound came in panicked rhythm
Into ears alert for words unsaid,
Reverberating beats of a once lonely heart
To which my own lonely heart was led.

Your shadowed silhouette was knelt,
Crouched and planted into place.
Hands to fit perfect in mine, I felt
Were digging into and hiding your face.

Your figure stood against Impatient's sunrise.
Could I do what you had to?
You asked this question and to my surprise
The best answer was not one I knew.

We took in colors made more vibrant then.
I stood beside your well-intentioned state.
Take your time in this new land.
Search for the stars and don't lose faith.

Don't worry about the fading sparkles above.
I know you'll see them again someday.
In our last parting embrace I loved
How you kissed my lips and took my breath away.

From God clothed in heavenly light,
He gave me this gift:
You.
And I give you this.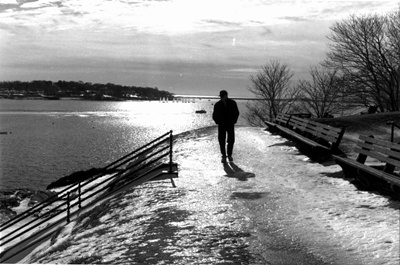 © Steve S., Marblehead, MA