Family Tragedy
April 6, 2009
somewhere in the world
there's that one little girl
who had trouble smiling
& soon gave up trying.
many other girls only cry
but this one wants to die
she cant help but feel cheated
many difficulties she defeated
she was reaching out for support
but found out being alone was comfort
she decided last night as the last
she`ll leave her soul in the past

her dad opened her door
found her body lying on the floor
he immediately dropped more than one tear
for that morning he faced his deepest fear
as he held her in his arms he cried
he can't believe his one and only child died
he found a note in her pocket
read it & dropped it.
the note told him not to worry
she's n a better place and she's sorry
but that boy broke her heart
and her emotions fell apart.

later that night her father was found dead
with a sliced throat & a letter that said
for her my life i give
it was only for her that i was to live
without her here I'm going insane
there's too much pain
I'm sorry baby girl
its true-you were my world.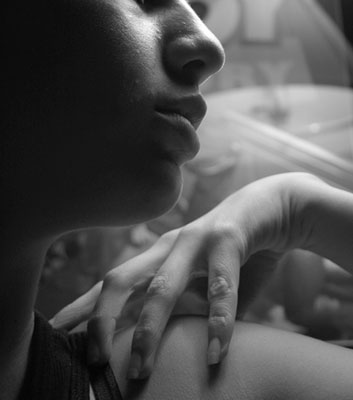 © Rebecca B., Santa Clara, CA