Finding Yourself
April 6, 2009
You were an Angel
with hidden wings of black.
Lost, with no signs of savior
who wanted to,
but could never go back.

You were an Angel
with a dead, rusty Halo.
So worthless and thoughtless,
so hopeless and lifeless,
who couldn't say "no".

So sell your soul
for a glimpse of love
to see what its like
just to feel numb.

Throw it all away and try
to hide yourself
from all the lies you tell,
screaming for help
for no ticket to Hell.

You pray "what can save me?"
You choke, asphyxiated.
You ask yourself, "if I bleed
will I find what I need?"

But that's not the answer.
It'll only get you hurt.
I swear you're an Angel
who hasn't found her Heaven.

So stare at the Sun
burning your eyes dry,
waiting for a miracle.
Waiting for a sign.

Just smile for a while
and see where it takes you.
You may even find
a completely new you.

So stretch those wings
and dust them off
and make that Halo shine.
Just give it time.

Heaven's right in front of you. You were just too Blind to see,
that all the things
in life you need,
are there beside your feet.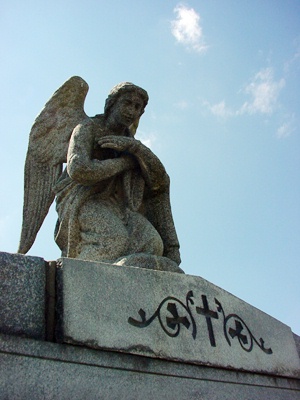 © Greg K., New Lenox, IL