One Step Forward in My Faith
May 9, 2018
As I was on the yellow school bus on the way to Camp Abbey, I sat there remembering the time my best friend, Elise, was first trying to convince me to attend the Saint Dominic CYO Winter Retreat. I sat on her bed and told her repeatedly that I would not go on this retreat because it would be filled with "annoying Jesus people," who would be all up in my face about religion. All I knew was that I would never attend one of these retreats even though I was sort of a part of CYO. However, as a was sitting in her room, which smelled of skittles, she told me something that would change my life forever, "Emma, suck it up and go or else I will unfriend you in life," of course she was joking saying this. Yet, for some reason, after listening to all of her pleading, this joke made me want to just go on this retreat. December came and it was growing nearer to the time for the retweet. Therefore, I packed my soft, fuzzy sleeping bag that smelled of campfire and my bag and was on my way to the retreat.

When I first arrived at the campgrounds, the ground was damp and squishy, from the rain of the previous night. I walked slowly to my cabin, not knowing what I would get out of this retreat, and I was absolutely terrified that everyone would try to make me become a "Jesus freak." As the first event of the retreat started, I thought to myself, this isn't so bad, yet. However, as the retreat went on, I grew like and know the people around, and I even made some new friends. These people later become some of my best friends to this day. As the retreat was coming to an end, it was time for the Sharing Circle at the bonfire. This is when we create a huge fire and form a very large circle, which consists of sixty five-ninety eight teenagers, around the fire. Then we pass around the talking candle and say our name, grade, and something that we liked/didn't like about the retreat. As the candle drew closer and closer to me, the only thing I could focus on was how vivid and absolutely beautiful the stars above me were. I had ever been in a field and surrounded by almost nothing to where I could see the stars so cleary. As I was staring at the stars, Elise was trying to get my attention away from the stars and back to the talking candle she was trying to pass to me. I shakily took the candle, unaware of what I would say, and took a deep breath of the campfire air. I simply started with my name and grade, and then I did something I never thought I would do, I got very personal. I starting talking about how I never wanted to come to the retreat in the first place and how this was probably the best experience I had ever gone on. I told them how impactful all the little games, the talks, the small group time, and the overall community had made me fall in love with the idea of God. The next morning we packed up and went home. Elise and I were talking once we got back about whether or not I enjoyed my time. No words came out of my mouth; the only thing I could do was hug her. I then proceeded to thank her for dragging me along.

Due to the fact that my best friend, Elise, dragged me to the retreat I am a completely different person today. Without her or this retreat, I would probably not have a faith life at all, let alone a strong one. I have now been to over eight retreats since my first one and I have loved every minute of every them. I am now extremely involved in my faith life, my CYO, and the faith lives of those around me. I now try to be the person Elise was for me to other people. Since, she brought on this extremely impactful retreat, I have drastically changed my life. Some of the changes were small, yet they completely changed me for the better. I made new friends with people who would not only build me up as a person but also build up my faith life. I started going to adoration to strengthen my faith life. I started to genuinely pay attention to the mass and to the people around me who possibly needed help. I discovered my love for service and caring for children through the service events my CYO had to offer. Without Elise I would not have a fulfilling and happy life, an idea of what I want to do with my life, and faith. I am now proud to be considered one of those "annoying Jesus people" who are always hyped about their faith and Jesus, because I truly am in love with my God and CYO.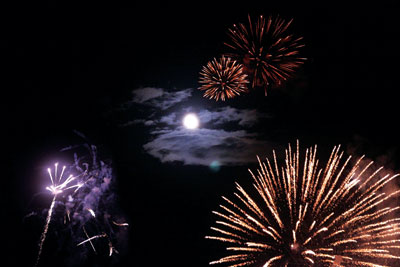 © Meena K., Groton, MA