It's Always You Vs Everybody Else
January 25, 2011
In today's modern society, mockery is generally a common, everyday routine. Whether the topic is about race, looks, or even academics and athletics, people are criticized frequently, because they have a certain belief in something. Specifically, religion is one of the more touchy subjects in this area. There's obviously no Civil War occurring right now, but it sure feels like we're fighting one.
We say, as the United States of America, that every man should be equal. If that's our claim, then aren't we some of the biggest hypocrites of them all? With the majority of the country (roughly 78%, according to official sites) living under the beliefs of some sort of Christianity, the minorities are often shunned or looked down upon. Unaffiliated citizens (those who live under Atheism, Agnosticism, etc.) and citizens with other religions (Jewish, Buddhist, Muslim, etc.) are sitting at a minority of about 12%. In many cases, the disbelief in a god or the belief of a different Messiah has brought many to disagreements.
So you think that, since I don't hold the same beliefs as you, it means that you have all power to criticize me because I, according you, am going to hell? Well, that certainly sounds peachy.
To me, religion is like an anchor. It keeps you from 'floating adrift' and gives you a safe place to turn to when you're scared and weak. In all honesty, I am agnostic, and in past experiences, I have literally been told straight to my face, loud and clear, that I'm 'going to hell' due to the fact that I have no specific belief in a certain god. Other situations I've experiences have also included religion being 'shoved down my throat'. Having someone try to force me into a religion makes me feel awkward and uncomfortable, and trying to pressure or force me into it will definitely ruin your chances for me to become a part of that religion.
Isn't this supposed to be a free country? Aren't we supposed to respect different views and embrace new things?
Again, hypocrisy at its finest.
Now, I'm not saying that one specific group of people are the 'bad guys', because they're ridiculed just as much as any other group. Particularly, I'm speaking of the Christian population in this country. They've had their fair share of insults—'Jesus Freaks' are one of those rather snide terms that have been used to identify them. See? Even our majorities are intimidated time and time again, yet we all stereotype each other for the faiths we hold.
America, isn't it time to try something new? Isn't it time to try and get along with each other? Isn't it time to ban together and become a whole country?
I certainly think so.
Let's not let others criticize each other for who we are. Let's not try to pressure others to believe what you believe. Let's try to share ideas and views, and let's keep moving forward to live in a better society. Let's have America live up to its name.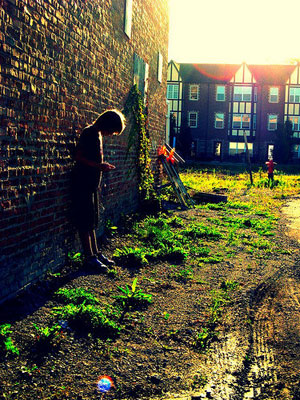 © Jessica R., Westchester, IL