Are we really connected?
April 16, 2012
Social networking sites and chatting via internet have shrunk the football sized world to a walnut. But if we seem to be moving toward unfettered union, we could also be seen as being more isolated than we've ever been before. Communication Technology has now contributed paradoxically to an actual lessening of live human contact, for instance, shopping from home becomes easier than driving to the store and speaking with a clerk. Folks, don't reckon that I am against tech. I am perfectly aware of the numerous benefits comm.tech has bestowed upon us, but it's important to sort out the venom it spreads.

"The right partner's waiting for u; what r u waiting for?" inquire the ads for online dating services. The ritual of dating, which once involved awkward blushes and vulnerable situations might become sterilized. As people become more alienated from face-2-face human contact, they reach out more desperately for friendship in d only place they feel comfortable -'online'. We are surrounded by appeals 2 join d 21st century, but the very tech is offering only a substitute which is a false notion of tightly-knit community. In place of real human interaction we now have what might be called as "virtual relationships".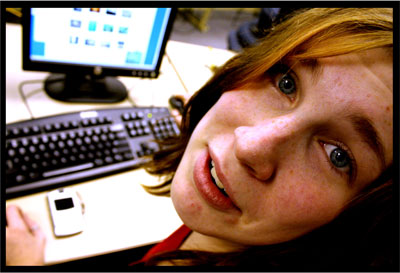 © Sam W., Bellevue, WA