Look at Me
December 18, 2010
Look at me.
At first glance, I'm a full on, CA blonde with those blue eyes and that mini skirt.
You may see me as one of the "Cheerleader" types. The one that gets the boys. The one that is better with looks then with math, and with 56 boyfriends a year plus an addiction to my phone.
You may roll your eyes and think "Gosh, what a poser."

Talk to me.
Get to know me a bit.
You may see me as the crazy random person that outside of class is pretty cool, but is totally getting that A in science. I never go anywhere without my Nikon Coolpix L100 (camera). You could say that I'm a total band geek, and that if I'm not at an opera performance or jamming out on my sax or clarinet, I'm at a swim meet or basket ball game, playing my heart out. You might add that I'd give my heart and soul for my five most trusted friends, and that I can't tell skinny jeans from lip gloss now that my mom's dead.

Know me.
Push me to let you into my collection of most trusted friends.
You understand that even though most of the above is true, there is a Yin to the Yang. I am thoroughly depressed, although the true reason is unclear. I've never had a boyfriend in my life. I am secretly bipolar, and have ADD. I have no religion. I was bullied all throughout elementary school. I would go to the end of the world and back to pick up some noodles for you, and where ever I go I will take the time to think of you. I eat music like bubble gum; if you ask me what flavor, you can figure my mood and how my night went. I am very passionate, but also quite good at concealing things. But if you ever need a bedtime story or 70 bucks for no apparent reason, just text me.

Now you are me.
You can see from the inside out.
I like to find the beauty in things, you know?
I like to think that perfection is imperfection.
And if that's true, I have a perfect life.
I don't really enjoy being picked up and thrown across the room because I forgot to scrub a spot.
And I really don't like hypocrites.
If some people saw what I do, they would call me "Emo", but I hate that word. If I were to take off my sweater, people could see the simple phrase "NEVER" etched into my wrist. Plus, I'm bisexual. What, you got a problem? Because I do. I'm just not that type of person. I'M not bi, my FEELINGS are. Gosh, I can't believe I'm writing this. How could it come to this? It's all falling apart. And I feel like all I can do is watch. No one listens, or even wants to listen. Because I'm just thirteen. I have a dead mom. And younger, more innocent siblings. So why would anyone care about Stupid Adolescent Jessica? I was given lemons. I guess life just didn't want lemonade.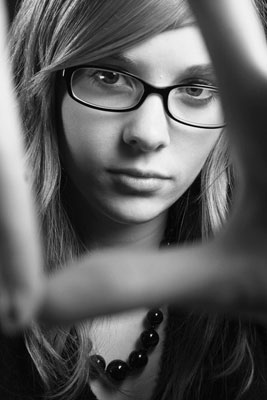 © Marina S., Vineyard Haven, MA