Keep 'Em Coming Kings
October 4, 2013
Southern rock band, Kings of Leon, came out with their sixth album, Mechanical Bull, on September 24, after being on a hiatus for a little more than 3 years. While in the middle of a concert in Dallas, Texas, the lead singer Caleb Followill, left stage to "throw up and drink a beer" and said he would return shortly. He never did. His brothers and bandmates, Nathan Followill and Jared Followill, told the confused crowd that they wouldn't be able to finish their show and apologized for Caleb's behavior. The crowd was very unforgiving and the news about their cancellation of the show, and of the rest of the North American tour, spread rapidly, and has been criticized up until very recently.

I am a die hard Kings of Leon fan- I even have their documentary, Talihina Sky- so the cancellation of their North American tour didn't really bother me. I mean I'm sure it would have if I was at the concert or if I was going to go to one of the scheduled concerts they were supposed to have, but my obsession for them started after that debacle, probably sometime in the middle of last year. I know that was very unprofessional of Caleb and I am a true believer in the saying "the show must go on," but the band has so many redeeming qualities that it was easy for me to over look this one fluke.

The band consists of brothers Nathan, Caleb, and Jared Followill, and cousin Matt Followill. Nathan plays the drums, Caleb plays the rhythm guitar and is the lead singer, Jared plays the bass, and Matt plays the lead guitar. Besides the fact that all of the band members are extremely good looking and charismatic, they are all very talented musicians. I like their old stuff, the new stuff, and everything in between. Some people get mad when their favorite bands change their style, go in a new direction, or become "mainstream." I mean I don't think KOL has ever changed their style too drastically. Of course as they got older, more experienced, and better at their instruments, their sound became a little different from their first few albums, which were very gritty, raw, and rock and roll. A lot of their new stuff is slower and more refined. The Kings really started to get noticed when they came out with their hits, "Use Somebody" and "Sex on Fire." This is when their fans who had been with them since their first album started to turn against the group because they said they were selling out. I don't think that is fair. I think that if they were really true fans, they would stick with them through all their changes, and realize that they were just growing and can't stay exactly the same their entire careers.

I'm glad the Followill boys decided to start a rock band but am surprised because from the way they were brought up, a rock band would be the last thing you'd think the boys would become. Caleb, Nathan, and Jared's dad was a preacher and he would travel to different places, and bring the family with him. The boys' parents were very strict and religious. They weren't even allowed to listen to rock music growing up. Who would've known that one day the boys and their cousin would form one of the most famous rock bands of our day? The boys formed a band before Jared was even 18. The band put their religious upbringing behind them and submerged themselves into the "rock star" life style. They soon got caught up in the partying, drugs, and alcohol, and gained the rep of partiers and drunks. The reason the band took a break from music for a while was because Caleb had a drinking problem and needed to get his life together.

The band used their time off to get married and start families. Caleb, Nathan, and Matt have babies and Jared got married last year. The band enjoyed their time off but missed doing what they love so they made a new album and are going to start a new tour soon. This time though it will be a little different: they are bringing their families along and so I'm sure there won't be as much partying going on. Kings of Leon have grown up and I think that really comes through in their new album. Im actually listening to the CD right now and i cant stop singing along and bobbing my head. I recommend it for anyone who likes good, fun music.

"Super Soaker" is the opener for the album and also their first single. I think they made the right choice in putting this as the first song on the album because it is so upbeat and fun, and sets the tone for the rest of the CD. It is very beachy and summery sounding. Caleb's raspy and unique voice really shines in this one and Nathan's background vocals compliment him perfectly. Their voices go beautifully together. This was the first song from the album that I listened to and after listening to it I knew the album would be a success.

"Rock City" starts off with a very cool guitar solo. It is a very chill song. The clapping in the chorus is a nice touch.

"Don't Matter" is one of my favourites. It is a nice transition from the first two. It's more "rock-y" and hard-core. I feel like this song would be a real crowd pleaser at a concert. It's just one of those songs that makes you want to dance and throw up the rock sign. Nathan has his work cut out for him in this one. He's doing a lot on intricate and technical drum playing.

Next up is "Beautiful War." It is a slow and peaceful sounding song. It would be the one in the concert where everyone pulls out their lighters and starts swaying. It's a beautiful song (no pun intended): the lyrics, Caleb's vocals, the background chorus, the instrumentals. "I say love don't mean nothing, unless there's something worth fighting for. It's a beautiful war." We'll said, Kings.

"Temple" reminds me of some of their older songs. It has a good beat and I love when Caleb sings at a high pitch. He really is a fantastic singer. The guitar solo by Matt is also very impressive.

I love "Wait for me!" It's so catchy. Before I even got the CD, I listened to it on YouTube about 1,000 times. I'm pretty sure half of the views for that video are from me. I really like the chorus. It's a very comforting and heartfelt song, "It's all better now, wait for me."

I'm not gonna lie, "Family Tree" isn't my favourite. I mean there had to be one song on the album that I didn't love. Not that it's a bad song or anything, I guess it's just not my style. It reminds me of their first album when they were just starting out and experimenting. Even though it's not for me, I like the fact there is diversity in the album and that their throwing some old school KOL into it. In a way they went back to basics, but at the same time you can tell they've really grown musically.

"Comeback Story" reminds me a lot of "Talihina Sky" from their Youth and Young Manhood album. I think the lyric, "I'll walk a mile in your shoes but now I'm a mile away and I've got your shoes" is funny. I think the title of this song might be alluding to the bands' comeback story with this new album and upcoming tour.

"Tonight" really showcases Caleb's unique voice. I love the raspiness in this one.

"Coming Back" is yet another very catchy song with a great beat on Mechanical Bull. I cant sit still while listening to this one. You can tell that this isn't the easiest song for Matt to play on guitar guitar, but he pulls it off stunningly.

"On the Chin" is a very pretty song. I think it's good to have balance by throwing a nice, slow song in the mix every once in a while. The lyrics are insightful. This song is kind of personal because it alludes to Caleb's alcohol problems: "said make yourself at home so I started day drinking."

I'm glad I got the "extended edition" CD that came with two bonus songs even though it was a little more expensive. "Work on Me" is another solid song and "Last Mile Home" is a perfect ending to the album. Caleb's voice is a little country sounding in this one. I know you're probably sick of hearing about my obsession with this band by now but I'm sorry, I just can't help it. I love these boys and I hope I get the chance to see them in concert one day!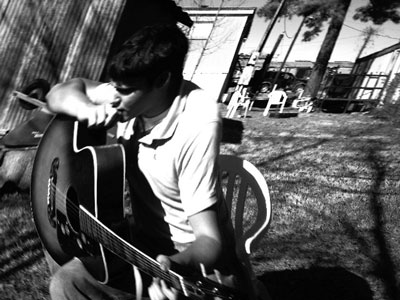 © John B., Shreveport, LA