that uncomfortable topic of...
March 10, 2012
My friends and I have come up with an insane idea. When one of us loses our virginity, we will throw them a party, just between the four of us. Streamers, music, cake, little gifts. No matter how crazy it sounds, I'm actually kind of excited to throw one. The deal is that, when one of us loses their virginity, the other three throw them a party. Call us insane but, I guess that's what we are. It's a special time in anyone's life and we want to be able to tell each other without it being awkward and we want to make it so they know we care. Lets just say… we're going to probably be throwing a party soon…
I understand getting uncomfortable when you hear about virginity or sex. To be honest, I'm a little uncomfortable writing about it, but not enough to stop me from voicing my opinion about it. Your virginity is worth a lot. It's your innocence for goodness sake. So believe me when I say I'm completely against just throwing it away on your boyfriend of one month. I think, that you need to know the person, to love them, and not just that sappy puppydog love where you're sitting at his heels every second of every day. I'm talking about the real love. And if you doubt if you're in real love, then my advice is to wait. Definitely wait. Because next thing you know you're gonna be the girl who everyone calls a whore because you lost your virginity young and now you're running through highschool boys trying to find the guy who could make you feel like you had it again. Then you blink and you're an old woman in a suffocating relationship with the father of your 3 kids while you cry yourself to sleep at night with an itchy pastel comforter and a 'Modern Women' magazine. Now, granted, this may not be the total direction your life is headed. Most likely I got a lot of the details wrong. And I'm not saying that this is what will happen if you lose your virginity young. I'm saying to not let anyone control you and to make a voice for yourself when this stuff comes up, or else you could find yourself in a place you never wanted to be. Don't let your boyfriend or girlfriend or whatever label they are push you into something and the same goes for guys too. Have respect for yourself, and don't ever do something you're going to regret. Please.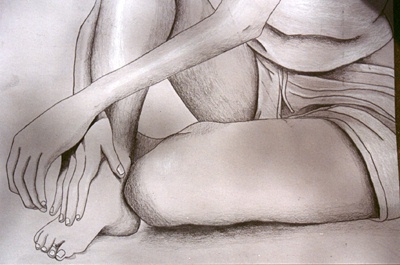 © Rebecca W., Kannapolis, MD