My dad-pa
November 15, 2010
My Grandpa is an really wise man since he is like 90 years old.He is one of the most important people on my life since he was like my dad due to the fact that my dad had never been there for me.My grandpa has lived through the difference between now and the old days.And he has worked really hard to reach his goal and to get where he wants and is now.

My grandpa's name is Luis Cortes.He is an really hard working man.He told me that when he was an lot smaller problably about 7 he had to work.At age 7 he already learned how to make bread and how to get a car set and started.He also knew about how to count and make his own money.To add along he knew how to dress him self up and get ready and by 4am he is all ready and waiting outside by his dad.


in addition,He lived through the hurt of his parents being separated.His mom was really young by that time and His dad was not my grandpa's dad was way older maybe about 10 years I think.So by that time the age did not really mattered back then.His dad's name is Leotefer Cortes.And his mom's is Maria Rosado.Really nice names back at the times...but maybe not that popular now at this days on the 2010's you may wanna say.......

He is an really good dad for me and for that reason I believe he is like the tightest dad-pa in the world.He also helps me out in my homework even when he was tiered.In addition he always takes me to school and he is not embarrassed to even talk to me about guys and gossip...He has an lot of humor and I love that about him maybe that's why i call him dad in spanish.

Even though my dad's in prison i think I'm not missing that much i mean I have dad-pa that helps me on my homework and if i have something embarrased to talk about hes there for me.And even if he is sick he helps me out.So if you are reading this I need you to know that I'm there for you and that i love you with all my heart...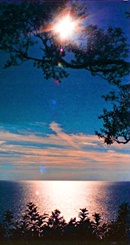 © Crystal B., Gresham, WI