Summer Lovin
January 6, 2010
"Summer Lovin" by Avi Zenilman shows summer jobs in a way kids usually don't think about. Avi Zenilman rates summer jobs to the factors that matter most to kids, and not adults. The three most important factors are wages, availability, and the hook-up factor. This hook-up factor is the chance for you to hook-up with a girl at work. This laid back and funny article directs kids towards jobs that they would enjoy and not what the parents want.

Zenilman takes eleven jobs he has experienced and breaks them down. He explains what he really learned on the job and what you were suppose to learn. Zenilman also shows the upside and downside with examples for both. Then he has the average pay and what you really should be earning. He shows the real experience for kids behind each of these jobs.


A waiter's hook-up factor is set to high to moderate in the author's description. With charm and a spiffy looking uniform, it would be easy to meet girls at any restaurant. As the waiter or hostess serves the person, they start a conversation with their customer. It is true when Zimmerman writes, "Night shift is the highest paying, but where you'll miss out on your prime chances for sex, drugs, and rock'n'roll with your friends." Teens must make a tough decision between going out and having fun or making money.
Construction worker also made high hook-up factor which is surprising. A construction worker may get a good work out, but where [on the job] do they see girls? Though the job title and daily routine is quite manly, you rarely meet a girl. Lifeguard also should be bumped from moderate hook-up to high. A lifeguard's job is to stare at good looking girls in the pool their whole shift; the only rare occasion of work is if a kid starts drowning. They should be able to flirt with a girl or two every time they work.
Burger flipper and supermarket worker are placed accurately at a low hook-up level. There are factors that contribute to this low level: grease, moms and dads, aisle seven cleanups, biggie sizes. These all don't involve good looking girls. These two jobs are the worst summer jobs due to wages and hook-up factor.

When getting a summer job, teens should look into the important factors. Wages, hours, and the hook-up factor are what teens want when getting a summer job. Before you sell your soul for three months, think about what all teenagers really want on their break—Summer Lovin'.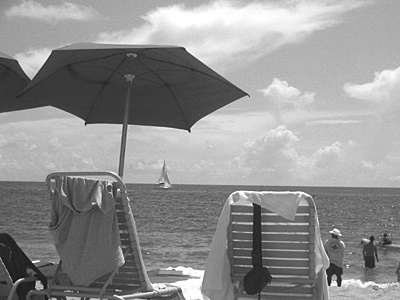 © Emily O., Boynton Beach, FL