Natural Disasters
November 14, 2017
Hurricanes are the most deadliest natural disaster.Hurricanes develop in warm, tropical regions when the water is at least 80 degrees fahrenheit. Hurricanes after start as clusters of clouds and thunderstorms called disturbances
Hurricanes can cause a lot of destruction and damage.Storm surges are frequently the most devastating element of a hurricane.As hurricane's wind spiral around and around the storm they push water into a mound at the storm's center.The mound of water becomes dangerous when the storm reaches land because it floods along the coast.
But hurricanes can be forcasted by trackers and monitors.To monitor and track the development and movement meteorologist rely on remote sensing  by satellites as well as data gathered by specially equipped aircraft.Weather satellites use different sensors to gather different types of information about hurricanes.They track visible clouds and air circulation patterns, while radar measures rain, wind speeds and precipitation.
Hurricanes are giant, spiraling tropical storms.They often have wind speeds of over 160 miles an hour and can drop more than 2.4 trillion gallons of rain a day.These same tropical storms are known as cyclones in the northern indian ocean and as typhoons in the western pacific ocean.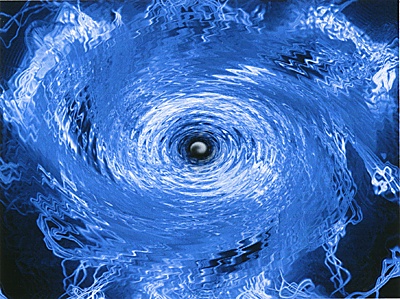 © Alex D., Phoenix, AZ