Poverty in the Eyes of the Viewer
July 14, 2017
Recently the news has been filled with stories about war, controversy, and hate and no one really seems to want to write about people understanding one another. It took me 2 days to find this article hidden in tiny font of the online edition of the New York Times. I was praying that this was a piece that could teach me about the coming together of people, religions or countries.

When I read the title of the article I thought that It was about a white woman examining the ups and downs of poor black communities. But that first sentence, "Several years ago, during a harsh Detroit winter, I swallowed my pride and applied for food stamps." that shocked me, I have never read about a white woman publicly admitting to having gone through what stereotypically only black people are only supposed to go through. As more and more of the article went by before my eyes I found her honesty about poverty intriguing, she said all the stuff that the masses Black, White, Latino, whatever are just too scared to talk about when it comes to who we consider to be poor and consider to be rich.

Sometimes we make assumptions about poverty even when we have never been in that situation, Ms. Mcmillan could not have said it better when she said, "The people who depict the poor, in other words, are unlikely to have much proximity to poverty themselves....And that makes them more likely to repeat stereotypes about the poor than to interrogate them. ".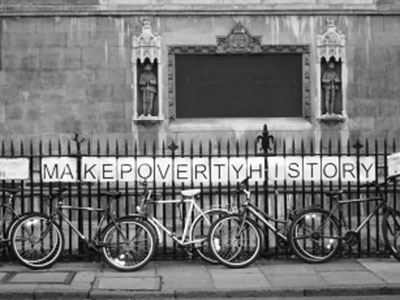 © Katherine S., Agoura Hills, CA