Amir and I
September 26, 2011
As if grade nine wasn't a hard enough transition, my biology teacher placed me in a reading group with no soul I was familiar with. Amir sat to my right. Amir looked like a cigar, he was tall, tanned, and about an inch in diameter. I didn't know where he was from, and for the entire semester he kept to himself, I wasn't even sure if he spoke english at all so I let him sit quietly while the rest of my new found Canadian friends and I talked about the assignments. Amir and I would smile at each other in the hall way for the next 4 years of high school but it wasn't until my first year of university that I would sit beside him in a classroom again.
Amir was the only familiar face in my entire spanish class and I made it a point to sit beside him every day for an entire semester. I quickly found out that I was great at spanish but the struggling cigar boy beside me had a hard enough time speaking english, let alone spanish. One Salty afternoon Amir and I met in the library before our first big test. The panic in his eyes made me pregnant with sympathy and so I asked if he wanted to go over the notes with me although I had already studied for an hour before.
Amir, as it turned out, spoke good english after all but had an awful time with spanish. We went over verbs, pronouns, and simple expressions for a half hour before Amir asked about the meaning of a word that I wasn't sure of. I looked to my dictionaries, computer, and text book to find the meaning but it was lost to me. "Its hard to go blind." he said looking me straight in the eye. This was the first non spanish related thing that Amir had said to me. "Every word in english was lost to me when I came to Canada for high school. I had to learn an entire language before making any friends. In my country we help our tourists and immigrants as best we can but in high school you need to ask for help before someone considers it. " My heart sank and my smile fell crooked at the thought of being a mute who could speak. Our conversation mutated into a lighter one afterwards. We talked of the crazy biology teacher we had. "One time" ,he said laughing, " The teacher asked me how I came here, and I told him that I swam across the boarder, and he believed me!" I smiled. "I'm from Iran!" he continued coughing up more laughter at the irony. We both finished our coffees as he talked of how wonderful where he came from was. Amir and I finished studying with smiles like arms stretched out, and he thanked me for the spanish lesson, I thanked him for my lesson in sight.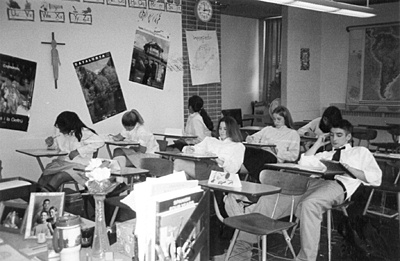 © Fox V., Whitesboro, NY