Skin Deep
July 15, 2011
"Mommy, what makes me different than her?" I ask, grasping my mother's hand tightly as we walk down the streets of Shanghai. We are weaving through a giggling crowd of Chinese elementary school girls on our walk to the grocery store. My eyes scan busy faces as we maneuver through the mass of people (????, as they always say.) For a brief moment, my eyes meet those of a Hello-Kitty-clad pre-teen. Blonde and on the tall side for a nine-year-old, I see that these girls are staring right back at me. "Nothing," my mother answers frankly. Nothing?

There is a superficial idea that people whose appearance differs from what we know and understand are different. We can be quick to believe that appearance defines who we are. We can spend our whole lives in our comfort zones. Sure, there is "diversity" in our schools or sports teams, but do we ever reach out to truly understand the complexity of another race? We learn to be accepting, and we are taught tolerance. "Don't gawk, sweetie. She just looks different than you, let's go." However, there is a world of difference between tolerance and empathy. This gap is one that we are often too afraid to conquer. The capacity for misunderstanding is real, and the possibilities for failure endless. We can get caught up in this trepidation and give up. If we only took the time to spend time with each other and try to understand each other, maybe we could begin to unearth the fundamental ideas that unite us as the human race. As we broaden our mindset, we can try to identify the inner principles that we all share, despite our different appearances. These are the ideas that motivate me to investigate in my own experiences.

Having lived all over the world and traveled extensively, I've learned how to blend in. As a blonde Caucasian living in Shanghai for the past six years, I try hard not to stick out like a sore thumb. I look different in China, but is there something more that bars me from relating to people who do not look exactly like me? Is there something deeper than my appearance that holds me back from entering and understanding another culture? The afternoons that I spent talking to the locals while drinking bubble tea or scavenging through pearl markets will never make me Chinese. Speaking the language and building relationships with the people around me will change neither my heritage nor ethnicity, but it can give me insight into the Chinese culture. I can begin to appreciate the similarities and differences that I find, and learn more about myself in the process.

People, in the most general sense, have more in common than we expect, and I look for these similarities in the most unexpected of places. Living in Scotland, I found a home in a farmhouse outside Edinburgh, the only American family for miles. In Morocco, I toured draped in a hijab to hide my platinum hair. In South Africa, I played with Zulu AIDS victims, giving them the attention they so often go without due to their condition. In each of these places, I found acceptance. I found a deep-rooted appreciation, not only for the way they looked, but also for the way they lived, be it their restrictive superstitions or their religious morals. I found a common ground that I could stand on and look at the world anew.

With these global experiences so close to my heart, the rationale behind singling out an individual based on their appearance is shocking to me. It is not a matter of national safety; it is a matter of ignorance. Certain people may look different, but does that mean they should be treated with suspicion or subordinated because of their elaborate Sari or modest headscarf? Should they be considered a national threat because they are different? Enforcing these generalizations is endangering our ability to accept other people, to band together as humanity. Instead of passing out labels and a "foreigner" status, the world should accept one another and appreciate rudimentary differences. There should never be an outsider; there should, instead, be collaboration, colorblindness. Always.

My eyes break away from the eccentric schoolgirl and I continue on my way. I feel the warmth of my mother's fingers, interlocked with mine. I look at the people around me, without judgment, and I see the beauty of unity. I see the world as one people, amalgamated and colorblind. Idealistic? Maybe. Hopeful? Certainly. Possible? Well, that is up for us to decide.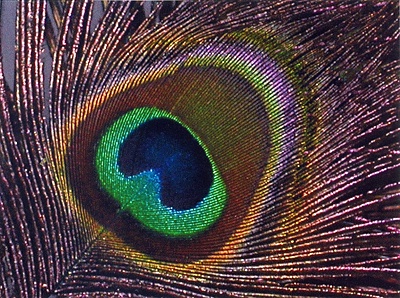 © Kasey B., Hopedale, MA