Tears of an Aboriginal
November 7, 2010
The clanging of chains rattle against the steel bars of our cage. My feet are blistered and swollen from running on jagged stones and the concrete ground of the Jigalong Depot.

I've never been on a train before. Daisy and Gracie are in twined together, curled up in the corner of the cage, asleep. I bet they have no idea what's happening, or worse, what's going to happen, come to think about it, neither do I.

I peel back my eyelids and watch the white man stride across the wooden floor- boards, his shiny black shoes glitter dangerously across the dusty panels. He throws me a filthy glance, looking down at me, his pupils burning into me, into my flesh, my dark skin. He pours himself some tea. I lick my lips greedily and wish I could feel the liquid running down my parched throat. I squeeze my eyes shut forcing the thoughts out of my head. I tuck my legs into my chest and slowly rock back and forth, swaying with the train.

The screams from my mother ring in my head. The dusty wet tears that leaked from my mother's eyes. Never in my life have I seen so much pain streaming down her cheeks. Everything was so horrible, especially that frightful white copper that tore me, kicking and scratching from my mothers arms and threw me hard into the car. My face pressed up against the dust-caked windows, I choked on my tears and my chest heaved as I sobbed loudly. My tears blurred the vision of my mother clawing at the windows, trying to force her through the invisible barrier that I was stuck behind, that all aborigines were stuck behind.

When I opened my eyes I was thrown into the back of a car, just like the coppers one, except this one wasn't shiny and looked as if it had been left out in the rain. Just like me. I looked up to the star messy sky and thought of my mother.

Daisy was crying on my shoulder, her tears stinging my dry skin and Gracie latched onto my arms. I lied to them, I told them everything will be ok and we will see our mothers soon. They didn't believe me. I didn't expect them too. My voice was hollow and echoed into the infinite sky.

The car started with a loud roar and groan and we started bouncing along the gravel road. I closed my eyes and drowned out Daisies sobs with dreams that we were going to a magical place, where our mothers would be waiting and far from any horrible white person. So far that it would take moons and moons to reach us. But where we were going was not a magical place, in fact far from it.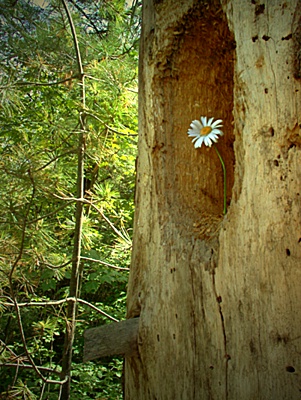 © Anna R, Sudbury, ON, Canada