Red, White, and Blue—patriotism
October 23, 2017
I walk out of my house to the red, white, and blue billowing in the cool crisp wind. It's my daily reminder of what it means to be an American—a patriot. Whether we express our patriotism through enlisting in the military (like many of my family members have) or by volunteering at a nursing home, we need to hold this great nation close to our hearts. Because without it, we are nothing.
    Red blood spills out onto the battlefield of wars past. The ultimate sacrifice was given by many of these men. We shall never forget what these soldiers have done, because if we do, we will not know what it means to be an American. Our flag represents ideas, liberties, and the American Dream. These are things, because of our patriotism, that can never be taken from us.
    White clouds spaced across the beautiful sky as families across the country grill out every 4th of July. The purity of our nation is exemplified by our citizens. Known for our working class, military, and democracy, the white innocence of our flag expels the clean slate everyone has in America. This a commodity that is hard to find anywhere else.
    Blue officers patrol our streets, keeping us safe from the evils of the world. The blue background in the field of stars expresses our unity even in times of division. Our laws, government, and integrity is stitched into our flag. The sacrifices some make to preserve this nation is immeasurable. These men and women are the ones to thank for everything we have. True patriotism is embedded in all who protect us.
    We all have a way of serving this great nation and we just need to find it. Every little thing we do to make this country better ensures future generations the liberties we have today. We are all patriots.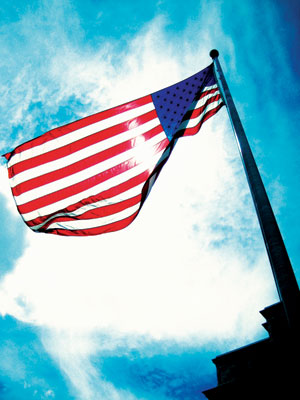 © Seita O., Palatine, IL