Let's Make it Practical
July 9, 2012
It is saddening to learn about the number of deaths that occur each time a war breaks out. At no point in time has there not been a war going on in the world; millions and millions of young men have lost their lives and futures to these battles.

Each death costs unnecessary time, money and pain. War, as we know it, is impractical. Every time a man dies, all the dedication, effort and time parents, teachers and society itself have put into him die as well. The investment in food, clothes, medicine, health provisions and overall education is tremendous; in the end, many soldiers die without even appreciating or taking advantage of these efforts. Additionally, parents and friends become too emotionally attached to the men, causing an even larger struggle when the deaths occur. The sorrow and pain associated with war is definitely uncalled for and can be significantly reduced. The life of any single human being is unquantifiable. Yet not that of a child.

Any reasonable person would agree with me when I say that slaughtering kindergarteners is considerably more efficient. Why, if we need to kill men, let's cut to the chase and not waste any time or money. Let's also avoid any friendships or emotional attachments to make the slayings easier.

Between the ages of three and four, these soldiers will already possess the abilities to march around loudly, push big red buttons to make machinery work, hold tools and instruments and, some, tie their shoes. Everything vital in combat they'll know how to do.

Every nation should keep aside a generous number of children soldiers who must not be taught any useful material, which would be useless in battle, other than how to walk and follow instructions. They should never be caressed or loved since they won't be needing any of that in war - it would make it impractical. The least amount of food should be wasted on them since we need to get them accustomed to the lack of nourishment they will encounter in warfare. However, enough food should be spent to keep them alive until war begins; we don't want the deaths to happen before we reach the battlefield, do we, presidents?

An arena should be set outside by a deserted island: a place where no one is aware of the damage and we can hide the bones easily. Maybe a desert would be more suitable since there'd be no trees or rocks in the way of the opponents and the shots would be more precise and kill faster. Around the battlefield, guns, high-tech killing machines, and bombs should be situated by the different countries in their designated area. The babies should then be left there to fend for themselves, with the least attention as possible. From then, the agonizingly strenuous work of waiting thousands of miles away, watching videos done from helicopters high above the battle sites, hoping for the opposing group of kids to die first, awaits for the poor heads of governments.

Using kindergarteners would definitely be more efficacious; however, as it happens to be, there is some problematic involved with comprising them at war. These kids simply won't take war and killing seriously. They will want to chatter and play with each other nonstop instead of fighting and resolving the issues for the nations. They won't have the live-or-die dedication for their countries which many presidents have, as is portrayed in their fighting and jeopardizing other men's lives at war.

Since the kids won't have been educated for long enough, we cannot expect much from them: they probably won't have learnt the prodigious skill of hating, as well as the ability to be hostile and have contempt, which comes with several years of education and integration with media and society.

Children are easily conceivable and, if more were to be needed, we can always expropriate them from their parents. They are so young that their parents wouldn't mind– they can go ahead and have another child if they please.

Why be in peace when we can kill kindergartners? Why negotiate when we can destroy humanities' future generation?

For the fun of it, I'd say. Watching such a scandal is quite delightful when you're standing on the other side of the screen. Wouldn't you agree, presidents?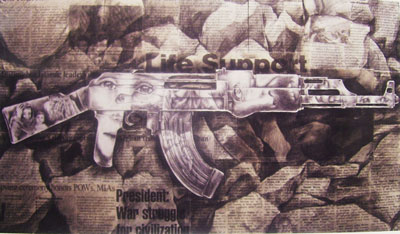 © Claire V., Lubbock, TX