Postcard from War
February 23, 2012
In August, I sent a letter.
In October, I recieved a response.
On the front of the postcard, the great monuments of Iraq stand tall, proud, and magnificent. The Ziggurat of Ur with proud, sharp lines standing imposingly in a plain of copper sand; the rounded arc of the Ctesiphon guarded by a half-dilapidated wall; Al Malwiya's spirals curling and curving up to the azure sky—these are the places that only seemed to exist in the pages of my world history book.

On the back, under the tiny paragraph about the sites on the front, is a sharp, boyish scrawl I don't recognize. And yet, there is my name written on the lines on the other side above my address.

Above that the date is stamped in faded ink. There, just above the date, nearly illegible from the weakness of the ink from the stamp, reads "Army Post Office".

Feeling especially patriotic in August, I wrote five letters to soldiers overseas. Some addresses I got from a family friend whose husband was deployed, others I found on websites that declared themselves number one of United States military pen pal services. I wasn't really expecting replies; I knew those soldiers had better things to do.

Months went by and still no replies. I had forgotten about it altogether. Needless to say, I was a little confused when the postcard came in the mail in October.

I couldn't remember which letter this soldier had recieved, but then, as I read the blue scrawl, it didn't really matter. I'll admit I got a little sentimental as I read the brief letter that was too vague and general to really mean too much to a normal person.

"I am forever grateful," he wrote, "for patrons like you who understand our nation's warrior class is a key part of what makes America great."

Our nation was built on the blood of heroes, the sweat of their brows, the strength of their courage, and on the bravery of their hearts. Freedom is never free. Sure, it's cliché, but it's also the truth.
It's easy to forget them, so far away and cut off from Americans' daily lives. It's easy for them to be left off from prayers at night. It's easy for them to be eclipsed by the mindlessness of pop culture and celebrities.

I've always believed I could do anything. It's easy to believe that sort of thing when you've grown up in a world where you never knew the violence and horrors of war. However, there is one thing that I know I could never do. I could never be in the armed forces.

I am not courageous enough to face death. I'm not brave enough to face my fears. From this knowledge grows my eternal respect. There is no other on this earth I feel more indebted to than those who serve our great nation.

I could never repay their sacrifice, but I feel like I'm making a small payment by merely telling them how much I appreciate them.

In a world where we can have almost anything our heart desires, it's easy to forget how to say thank you. Two small words can mean so much to someone who gives as tirelessly as our soldiers.

I read the last line, "May God bless you and all your family."
I have the postcard pinned to my wall so I can see it every day. I read the words occasionally, and send my prayers overseas to those who are still fighting for our freedom and everyone else's.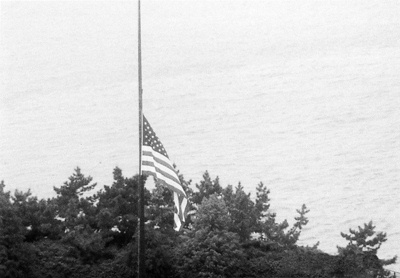 © Jessica E. Pelham, AL