The Man Behind the Machines
October 20, 2011
On the fifth of October, our world lost a revolutionary. He was born on February 24,1955, and grew up as an adopted child. His young mind was clearly innovative and creative. He would soon grow into one of the most prominent giants of a field of science that did not exist in his youth. He would soon have every man on Earth know his name. He would found a company so powerful that every household in thee country would own one of its products. But in his early life, an apple meant only a fruit to him.

In 1972, Steve Wozniak met a remarkable man. Together they began a company in a garage. Together, they created a tiny business, a business that had seen little success competing against thee powerful giants of thee Silicon Valley, Microsoft and IBM. Little did they know, their small business would soon grow up into one not quite so small.

The Macintosh was launched in 1984. It was a "masterpiece," and cannot be described as anything less amazing. This revolution formed the basis upon which modern computers would be based. The Mac would grow and evolve into thee modern and successful iMacs. However, none of this impact could be predicted by thee men in this unknown business in 1984.

Today, this revolutionary man is regarded as one of thee greatest technological minds in history. Millions of people have benefited from his inventions. He changed thee way we think of electronics. He has made our lives wireless, technological, and convenient. Now, we can hardly think of thee time when an apple was a mere kindergartner vocabulary word. We can hardly imagine thee time when names beginning with the beloved "i" were seen as absurd. These times did exist, yet if it weren't for a single man withe a brilliant mind, it would have stayed that way.

Thank you, Stephen Paul Jobs, for what you have given us. You will be missed.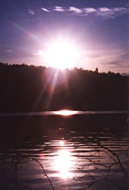 © Laurie T., Hopkinton, MA