Armor for the Heart
November 5, 2013
Summary:
Mallory Larme thought her life would be boring forever. Listening to her Naturalist father blabber about plants all day made her wish that she could have a different life.
Enter Gaston Lesauvage, mesmerizing Mechanic, who offers to take her away. And he does, but for all the wrong reasons.
Using her for his school project at Paris Descartes Université, Gaston tries to implant armor around Mallory's heart. But he messes up.
Will she survive? If so, her life won't be the same. And how will she come to terms with being inhuman?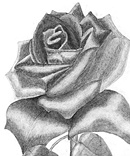 Kara T.
Armor for the Heart