Disney- I Just Can't Get ENough
April 16, 2014
I was two years old when my family first took me to the Walt Disney World Resort in Florida. I don't remember much from that trip, but my mom took so many pictures that I think she captured every moment of that first trip. I recently returned from my 35th trip to the Walt Disney World Resort. Some say I need to go other places, but for now, it truly is the happiest place on earth.

There have been many trips where my family could not afford to buy tickets. However, we still stayed on Disney property. Disney has a little over 20 resorts on property, and I have stayed at well over half of them. I think so many people are caught up in the theme parks that they forget to enjoy the time that they have at their hotel. Some of my most favorite memories are times I spent with my family playing in the pools, renting boats and bikes, and participating in the recreational activities led by Disney cast members.

Of course, the parks are what attracts most tourists to Disney. In fact, most people call, the Magic Kingdom, Disney. They do not understand that the entire property is called the Walt Disney World Resort and that Magic Kingdom was its first theme park. This park is just home to me. I honestly feel like I grew up on Main Street, USA. The rides include classic iconic rides, thrilling roller coasters, and storytelling raft rides. I have no favorites, because I love them all! EPCOT was Walt Disney's idea for a future community. It really did not turn out the way Walt dreamed it would be, but it is a uniquely themed park. The front half reminds me of a World's Fair. It is full of hands on attractions and learning modules. The back half of the park is called the World Showcase. You can tour small replicas of many countries, taste their food, and even purchase merchandise from that country. I am very fond of the candy from Japan, while my mom and dad could spend the evening in France pretending they are actually there. Disney's Hollywood Studios is a fun place to take your time and enjoy shows and street performers. It also is the home of two very thrilling rides. Rock-n-Roller Coaster and Tower of Terror never fail to keep you wanting more! Disney's Animal Kingdom is the latest park built on property. It feels like part zoo part theme park. It is a relaxing day of safari trips, broadway style shows, and animal gazing.

Many people may not realize that there are two water parks on site. Blizzard Beach is a winter wonderland themed park, while Typhoon Lagoon is a tropical themed park. My family enjoys Blizzard Beach the most because of the many rides that we can experience together. Our favorite one is Teamboat Springs. It is a long slide full of twists, turns, and dips, and the best part is that you ride in a raft large enough to hold your entire family. (Well- up to six) The best part of Typhoon Lagoon is the monster wave pool. This pool is insane! Large six-foot waves come crashing down on you every two minutes or so. It is AWESOME!

In the end, in my opinion everybody should visit the wonderful world of Disney at least once in his or her lives. All the parks have their own personality and attractiveness but it is always amazing to be able to go to each one during my stay. So in the end, not only is Disney World in Florida for parents and their young kids, but also for us teenagers who are looking for just a purely fun time on our vacations.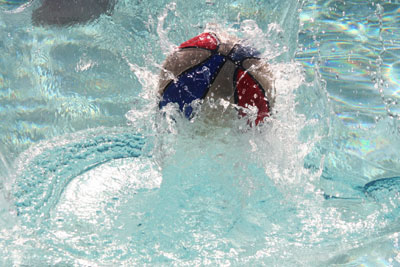 © Justin W., Cape Town, South Africa