The Other Side of the World
July 24, 2010
It was by far one of the most crowded places I'd ever seen. It was a large, somewhat stuffy place full of commuters, a fair few of them red-faced from dragging their luggage along as they hastened from one lobby to the next. There must have been at least four floors, no, five; at the ground floor, you could see each level's shops and eateries by tilting your face skyward toward the mile high ceiling. I confess though that, now that I'm older, I realized it was my youthful imagination jumping to conclusions and my slight knowledge of a world past my own that exaggerated these normal things to me. But it was certainly a fascinating place to see and enter. I can still remember the large interior and even greater exterior, and the seemingly erratic movement of time in which at one moment, time went by in New York minutes then suddenly slowed to a peaceful crawl. But the idea that drifted lazily in my mind, the one that was thought to be both fascinated and impossible, the simple thought of flying; that is what remains most vividly with me today. People around me jostled about, moving quickly; not wanting to be late for their flight. My family was among these travelers, hurrying through the airport; we too, had a plane to catch. I was seven years old, it was the beginning of the New Millennium, and I was going to see the Philippines, the birthplace of my parents, for the first time.

It took three planes to reach Manila, the capital of the Philippines. There was the crowded one and a half hour flight from San Diego to Los Angeles, the more comfortable, less hectic journey from L.A. to Korea, and the short, final hop from Korea to Manila. The flight to L.A. was…Well, how comfortable can a trip be for a family of four in a tiny plane stuffed with twenty people, with a ceiling barely a foot above their heads, and the deafening roar of the engines filling their ears? Not exactly what I would call fun. Luckily though, it was a relatively short trip. The second flight, which lasted ten hours, was the most pleasant of all with a couple of meals served in between; where games, cards, and the like were given to the passengers with a surplus of energy and, with a few, either a case of insomnia or air sickness. The third commute was the most anticipated one. As the plane rolled on the runway with what little inertia it had left, I held my breath as my heart beat quickened; Just imagine! I thought, In a few minutes I'll finally be in the Philippines!

When I first set foot in the country I only knew through stories, the first thing that caught my attention immediately was the air and the sounds and sights following. It was the beginning of March and although the States were just beginning to warm, here, it was almost like inhaling steam. The air was very hot. It was like swimming through hot water that couldn't drench you, but could suffocate you if you weren't careful. Along with the smells that wafted in my direction came a multitude of sights and sounds. Everything was magnified by the heat! The sweet aromas of turon, a vendor's shouts advertising his wares, children playing with a ball in the street; so many things were going on at once! All of these things were making me feel dizzy… As the ringing in my ears faded away, I woke from my stupor and hopped into the shuttle our bags were being loaded into. We were going to visit my grandmother, Grandma Crisanta.

Pasig City in the suburbs of Metro Manila…If you go to my grandma's house on foot, the path seems to be long and winding compared to the street which dips up and down. We braked to a stop in front of a bungalow. It was a large, one story house surrounded with a cement fence with a gate wide enough for a car to enter. The front yard had a small variety of exotic flowers growing around the brick walkway; and if you glanced to the right you could see the small grotto with a statue St. Bernadette kneeling in front of the Blessed Virgin Mary. In the front part of the house there were short pillars in front of a porch that led to the front door. The interior was quite spacious. By going to the back of the kitchen and exiting through the back door, I could see the small, neat yard with a clothesline connecting the fence to the house. It was an old house, teeming with the history of my ancestors; and over the course of about a week or so, I would meet many of them.

We were going to meet nearly all of my relatives on my mother's side of the family. Mom didn't tell Grandma she was coming, so she received a pleasant surprise, or at least I thought so; she was frozen to the spot from shock when she saw us, so it was impossible to tell.

Grandma Crisanta was a small woman, but she was more than she seemed. She was a wise and kind person who understood many things that others took for granted, and she always knew what to do and when to do it. The last time we'd seen her was when she stayed with us in the United States. I remember she would take care of my sister and me and whenever she had some spare time, she would tell us small facts and stories about the Philippines and its people, and special memories about my mother's childhood. Maybe it was because I was so young and wasn't really thinking about what she was telling us, but now I realize the importance of what she did. Without knowing it, we grew closer together and the traditions of the previous generations were passed down through my sister and me. She was (and still is) a large part of my life and I owe her so much.

For now, I met my aunts and my uncles and their children, my cousins, who were around my own age. My sister and I were meeting many people we had never seen in our whole lives, but my parents of course, knew everyone by heart. All of us had a family reunion together over lunch at a restaurant overlooking Taal Lake and its volcano. Then we drove up to Sky Park which was on top of a mountain whose tip stabbed into the clouds and where it was so windy you almost walked in place! After Sky Park, we went to the Mega Mall to go shopping for souvenirs, clothing, and odds and ends. As the sun began to set, we paid our respects to my grandfather at his final resting place, bearing flowers as offerings. I'd often heard stories about him, about how he was a smart man and a good father to his family; he was caring when it mattered and firm when the occasion called for it. My sister and I never got to meet him though, because he had passed away many years ago before either of us was born. Later that evening, my family visited my grandma's sister, whose family threw a welcome-home party. Everyone was extremely kind to us. We met many more relations over the time of our stay there, but we would soon have to leave because we were still going to visit our relatives from my father's side of the family.

The jipney that took us to Gerona, Tarlac was open and the wind and dust swirled around it in small tornadoes. We had stayed with Grandma Crisanta for about a week and now, my family was traveling to Grandma Conception's house. That afternoon, she cooked a delicious lunch for everyone, which we ate underneath a handmade bamboo hut. We had plenty of fun because there were lots of cats and dogs roaming around the backyard. Then, that night, we went to the beach and played amidst the breaking waves! I was surprised to discover how warm the water was compared to the beaches in the States. When we went to wash up, we were startled to see that instead of a regular shower there was an old-fashioned pump! The next day, we visited Baguio City. While we were there, my dad bought my sister and I each a woven vest and a matching bag, both of which I still have. We also met the some of the Igorots of Baguio, who were the natives and ancestors that lived in Baguio. On our way back to Grandma Concepcion's house we bought taho, a sweet dessert made of soft tofu, drizzled with molasses, and garnished with sago. Spending time away from the big city was a great experience. You could see the farm animals wandering in front of their owners' houses, people sitting on their porches having a conversation about so-and-so going here-and-there. Everything moved slowly, and it was at places like this one that you could go away to to unwind and get away from the fast pace of the city life. The next morning, after saying our good-byes, we went back to Grandma Crisanta's house.

We decided to stay with my mom's mom for the remainder of the month. During our last week there, she taught us how to play some games. My favorite was mancala, a popular game in the Philippines. All the while, we slowly began to pack for the journey home.

Then, all too suddenly, the day that marked the end of our visit arrived. We said our good-byes and before I knew it, I was on a plane back to America.

Now that I am older, I realized how wonderful and important that visit really was. I discovered many things about the Philippines that I could only have learned if I was actually there. I met my ancestors and heard their stories of themselves and others. I also tried new, different foods and saw firsthand some of the culture that was still so strong in that county. I still miss the Philippines very much, and I can't wait until I have the chance to go there again.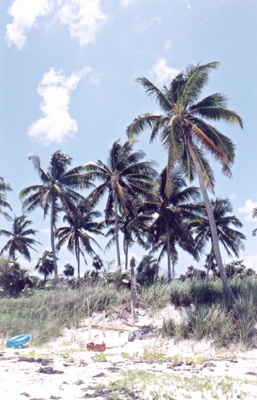 © Samantha D., Southbury, CT