Islam vs. America
May 27, 2010
Islam is a culture that has many opinions circulating around it, some good, others not. These opinions are held by all sorts of people. A Muslim man in Egypt might view Islam differently than a man inTexas. All people of all different races, religions, cultures and backgrounds will have a different opinion. So what exactly are these opinions?

Lets start with the Western view on Muslims. Many Westerners (Americans, Canadians, etc) view the Muslim culture as an intolerant, violent and fanatical society. This is a blanket statement that many people fell is true about Muslim culture, when it is not. It is true that there have been cases of extremism in the Muslim world, that does not make it alright for people to make a blanket statement about the Muslim people as a whole.

On the other hand, there are many Muslims that view Western culture as a selfish, arrogant, disrespectful and greedy society. This is again, not completely true. Yet there are elements of each of these characteristics in most societies. A part of the Middle East aspires to be more the Western Culture, as Wester Culture is viewed as one of the places with the best quality of life. While another part of the Middle East want's to distance themselves as far from Western Culture as they can.

Extremism is one of the main reasons for prejudice against the Middle East (and Muslims.) Because of a few individuals choice to take what they believe in to an unbelievable extreme, a large portion of people in general, assume that everyone in the Middle East is out to cause them harm. Again, this is not true.

Right before I went to Egypt, I was concerned about how safe it would be for an American to go to a Muslim country. Everyone was so helpful, kind, nice and just overall pleasant, that I didn't worry about safety for the rest of my trip. The only time I felt in any danger at all, was when I was on the Nile on a boat and I thought I saw a crocodile.

I was asked by a man in Egypt, "What does America think of Muslims." I told him "I can tell you that I know very little about Muslims. But I try to keep an open mind and I don't really have an opinion." It was just very interesting to see that people all the way across the world are as concerned about what people think of them as we are.

People will always have disagreements about how they feel about one another. But it is important to know that there are people who know that their culture and country are not perfect but they are proud of it anyway. The Middle East is viewed as both good and bad. I believe that it is a wonderful place full of rich culture and good people.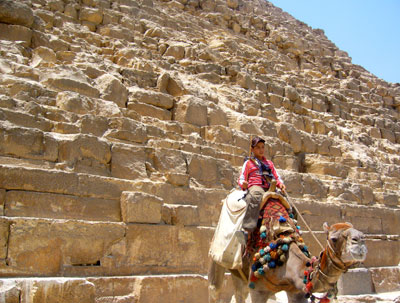 © Elena N., Fair Lawn, NJ