Gone Away Land
March 26, 2010
The last thing I saw of my country was missals hitting down on it. That was one of the reason's why my family and I left Lebanon . It wasn't my first time on a plane or going to America but it was my first time going to America with my family. It seemed like years were going by while I was on the plane. I watched the sunsets and land and oceans underneath but nothing seemed as beautiful as the land I left, even thought the land I left was filled with chaos and violence. It still had a kind of beauty that not many can see.



A day later we arrived in America and I knew this was the land I was born on. The smell of the air was different from Lebanon 's but it had its own unique smell to it. The car ride was long but it was interesting at the same time. The houses were built different and the flowers were in full bloom. The trees were so different, and the animals were not as the ones I was used to. The people here seemed so far away from each other that it seemed inhuman. I looked up at the sun and knew it was the same godlike sun I had always saw shinning in the sky at Lebanon .



The more days that had passed by the more I got used to my birth land. In between the weeks my cousins would take me and my sisters out and show us around our new city . During the day the city would look like a calm, quiet, and beautiful place, but at night the street lights would shine like the stars and it would seem as though the city was shouting out "look at me". Every corner was different; every store was unique by the different things that were out for sale. The stores were very different from the ones I was used to, and sold many things I had never heard of or thought would exist.



Month's passed as though they were years, and school was starting. I didn't speak any English that time and couldn't understand one word that was said to me. For me it all sounded alien. I mean, just imagine you going to China ; you'll think that you left earth because you won't know one single word that anyone said. Since I was the new girl in my class it was really hard for me to make any friends; but I was used to it because in the past years my family and I would always travel around the Middle East .

I remember crying out to my mom asking "take me back to my friends and family in Lebanon ."

She told me at that time "This is our new home and our family is here too."

I hated the thought of leaving everything behind but knew I still had my treasured memory. After a while I made a friend named Maya and she taught me many of the American customs.



It's been about 10 years since I came to America and I've grown attached to it over the years. I never stop thinking about Lebanon but now I believe America is my homeland and is the dearest to my heart. Moving on is hard but it opens many new opportunities.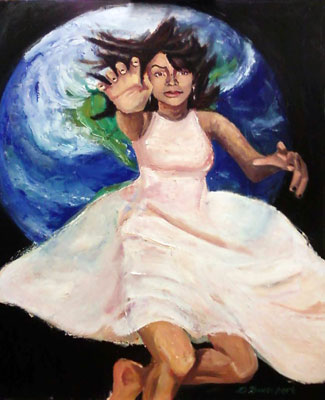 © Dominique D., Ozone Park, NY