Battle for My Mind
May 7, 2018
I never understood how to properly verbalize the battle of emotions inside my mind: anger would tell my anxiety to get over whatever irrational thought was making me panic that day. Depression told my mind to stop arguing so that I could sleep the day away, only to have intrusive thoughts keep me from resting peacefully.
But my mind now resembles a war torn city; what was once a vibrant, thriving city with ambitions and goals is now masked by an atmosphere of lifeless defeat. With each bomb, bullet, hit, pill, I have turned my mind and body into pathetic rubble.
For ten long years, foreign and unwanted sensations held my life captive. Each day I awoke anticipating which symptom would be most prevalent. The worst days were when two or three emotions would take control at once. It is confusing to a naïve adolescent to have to grasp feelings of depression, obsessions, and panic. As I grow older, the confusion only cultivates more.
Worse were the days when no feelings would emerge at all. There is something frightening in the numbness I felt. No feat felt too powerful to conquer, but no feat was critical enough to get me out of bed. This left me feeling trapped in a cycle of hypocrisy that I, alone, created.
But ten years is a long time to be in battle, and I feel myself losing the desire and determination to continue on. I have conquered death and loneliness, terror and sadness. But now I am tired and wounded, impaled through the chest by a bullet laced with regret.
I have felt happiness over the years; I have felt contentment and excitement, curiosity and aspirations. But the battle inside my mind continues, and these feelings have begun taking refugee elsewhere. I still laugh when I'm meant to and smile when greeted, but my laughs feel hollow, and my smiles forced.
It has become increasingly difficult to watch TV shows or movies that once brought me great joy. It's difficult to see such plots progress, as my life remains stagnant. Music has become a means of distraction: if I listen closely to the vibrations of the chords and soft voices of singers, maybe I won't notice the dreadful thoughts that cross my mind every waking moment.
I spent countless years held captive by the uncertainty of everything. I regret nothing, but I do wonder what implications would come from acting in a different manner. Dr. Strange claims to know the one trajectory of action out of 14 million instances that would lead to success. As I awake each morning, each week, month, year, I am left to ponder this concept.
Will I have to live out each of these 14 million instances to even attempt to feel success? Or will I live the rest of my life in a purgatory of mediocracy and trivial satisfaction? In this sense, is it better to subject myself to a meaningless life in limbo, or subject myself to heaven or hell now? Surely, the latter would be quicker, and the uncertainty of life that I constantly fear would vanish.
But I am more complex than that. I am not a sinner, or a saint. I find excitement in substances and the loss of control to be thrilling, but I am not a drug addict. More so, I allowed the battle that took place in my mind over this past decade to define me. No single action or decision I make can define me. I am a culmination of my past, present and future; of everything that has happened or will happen.
In these crucial moments of self-awareness, I must decide: do I surrender to the enemy of mental illness, or fight with what little resolve I have left? What if I were to moderate an agreement between my mind and the enemy forces? Surely, I could find a way to live with fear and ambition, depression and content.
I need to act quickly, though, because I can sense the pieces of my being start to drift away into infinity, and I fear I am losing myself.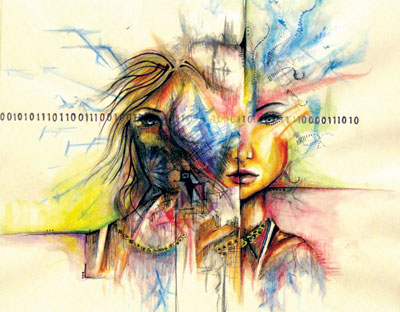 © Melissa W., Fayetteville, GA