The Undying Love of a Father
May 5, 2018
It was a time when I thought of going ahead with my dream goal, the time when I wanted to quit the job. I decided to go with my dream of doing something more and more achievable in life. I am kinda person who wants to travel and who wants to explore the world. I think one who travels has more stories to tell than anybody else. Well, to become a storyteller it is good to explore first. So I did not want to regret in the last and I finally decided to quit my job.
The very next day I called my parents and just told them about my decision. I don't know about my mother's reaction but my father agreed. I was very happy that I have such an understanding father. As I have always heard that 'no one in the world can love a girl more than her father'.
One of my friend and colleague was upset with my decision of going home back and he decided to give me a farewell. He took me to the local food street as he knew how big foodie I am. As he is a father of two beautiful daughters, he was telling me about them and their little, cute moments. The time we reached there to have a delicious street food. We thought of starting with 'Paani Puri'.
During that moment I suddenly noticed a little girl enjoying the food with her father in one plate, their food was about to finish and to my notice, only a few bites were left. The girl offered her father the last bite of food but the father refused and told her to eat. That little girl smiled at him and the father enjoyed the last bite of the food.
Meanwhile, our 'Paani Puri' was also ready. But I suddenly saw one more little girl with her father. She was sitting on a cycle and her father bought her a mango juice. The time she was enjoying the juice her father was looking at her with a smile as she was the only little cute and innocent world to him. While coming back, I was just thinking of those girls with their fathers. Every father is a hero and the first love to her daughter. No matter what the father is rich or a poor but he has the courage to feed his daughter with a smile on a face. Fathers act as a protecting shield.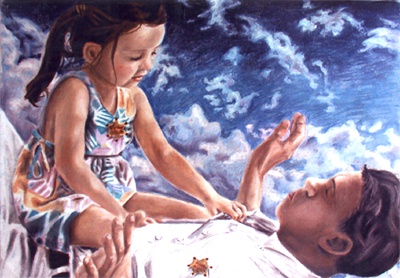 © Meg S., Andover, MA